New DVD Season Sets Of Burn Notice And White Collar This June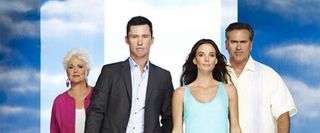 Twentieth Century Fox Home Entertainment is pulling a two-fer this summer by releasing new season sets of two of USA's hit dramas on the same day, June 7th. I'm sadly out of the loop on both, despite being regularly hounded by both my friends and my parents for never having gotten into Burn Notice. I blame the fact that it isn't on Netflix streaming. It's the gateway to addiction, networks! Pay attention!
Here's what the press release has to say:
Your Daily Blend of Entertainment News
Thank you for signing up to CinemaBlend. You will receive a verification email shortly.
There was a problem. Please refresh the page and try again.