The Dinoshark Trailer May Be The Best Thing You Watch All Day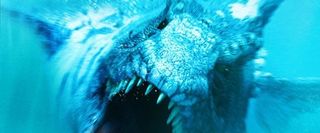 When a young Eric Balfour decided to chase his dreams of becoming an actor, I doubt he suspected that he would one day star in the cinematic one-two punch of Skyline and Dinoshark. If we could travel back in time and tell him, would Eric Balfour now be an orthodontist with a small but respectable practice somewhere in the Midwest? I like to think so.
Skyline, of course, was one of the worst movies of 2010, a perfect storm of awfulness that, in the memorable words of Cinema Blend's Mack Rawden, "must be appreciated in person, like a dinosaur eating a six year old girl." And now the Roger Corman-produced Dinoshark is coming to Blu-ray and DVD April 26th, starring Balfour as a courageous captain who vows to take revenge on the dinoshark that ate his friend. Crucially, of course, Dinoshark's inherent awfulness is at least somewhat intentional -- the Corman name demands all tongues be placed firmly in cheek -- whereas Skyline seemed to be doing its darnedest to succeed as a straight-up alien invasion thriller, and failing spectacularly at it.
Dinoshark just wants to be Dinoshark. Dinoshark has no aspirations toward anything grander or more noble than the simple state of Dinoshark-itude. Dinoshark wants to lavish us with paper-thin characters, cheesy gore, and atrocious CGI effects. Dinoshark wants us to laugh at the scene with the surfer, or the Free Willy homage. Dinoshark may not be destined for greatness, but dammit, Dinoshark wants you to know that it will be the very best Dinoshark it can be. And doesn't that deserve our respect?
Dinoshark wants you to watch this trailer. It's for Dinoshark. It also contains possibly the greatest moment in cinematic history. It involves Eric Balfour, a jet ski, and a hand grenade. Oh, and the Dinoshark, of course.
Your Daily Blend of Entertainment News
Thank you for signing up to CinemaBlend. You will receive a verification email shortly.
There was a problem. Please refresh the page and try again.