Disney Makes Another Change To Tinker Bell Movies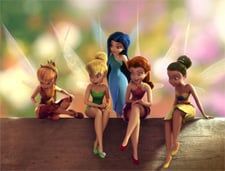 Disney's attempt at making a Fairy line of movies has been an unpredictable disaster. The project has been retooled several times for reasons ranging from poor quality to the Disney / Pixar merger where John Lasseter, who is a self-proclaimed Tinker Bell fan, forced an overhaul on the project. Now Disney has reported yet another change for the series of movies, the first of which is due later this year. Tinker Bell has a new voice!
As you may remember, Tinker Bell has never talked before. In previous movies she speaks with the voice of chimes or a bell, but no human understands her other than Peter Pan. Obviously that has to change for a line of movies following the famous fairy, and King of the Hill star Brittany Murphy was given the part. This week it was announced that someone else now has the job: Mae Whitman.
Whitman has worked with Disney previously, providing vocal work for The Jungle Book 2. She is probably best known for her voice work on Avatar: The Last Airbender, but you can see her in physical form way back in Independence Day where she plays the President's daughter (and still provides one of the movie's killer emotional moments for me).
I'm still not 100% sure about this whole Tinker Bell idea. I trust Lasseter and assume he would pull the plug completely if this wasn't working, but I think the whole idea might be a big misstep for Disney. I guess we'll see in October when the first movie in the Fairy line finally comes to DVD. For now, you can see a clip and the trailer for Tinker Bell below.
Film Clip (with intro by John Lasseter)
Trailer
Your Daily Blend of Entertainment News