The Fox And The Hound Celebrate With 30th Anniversary Blu-Ray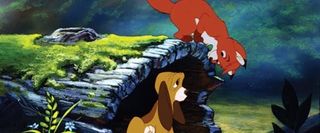 Disney loves nothing better than to re-release its movies, and on that front, they've never met an anniversary they didn't like. Case in point: the House of Mouse has announced an August release for The Fox and the Hound, timed to celebrate the film's 30th anniversary. This comes just five years after we got a 25th anniversary release, naturally enough, but at least this go-round comes with an extra selling point -- The Fox and the Hound has been digitally restored and upgraded to high-definition.
The Fox and the Hound (30th Anniversary Edition) will arrive on Blu-ray and DVD on August 9th, and will also be packaged with the 2006 sequel, The Fox and the Hound 2. As per usual, Disney will provide several different purchase options. The three-disc Blu-ray combo pack will include both films on both a single Blu-ray and two DVDs, and will list for $39.99. If you're not Blu-ray capable, you can opt for the two-disc DVD set for $29.99. If you're still not sold, The Fox and the Hound will also be available as a digital download in both high-def and standard-def versions.
The release won't be as loaded with bonus features as some of Disney's higher-profile releases, but there is still enough to keep you and your kids occupied for a while. You can check out the trailer and the specs below.
Blu-ray Disc
Unlikely Friends: A fun and fascinating collection of unlikely friendships in the animal kingdom (ALL-NEW) -- Friendships know no boundaries. They can occur across country lines, be shared among young and old, and even develop between different species!
DVDs
The Fox and the Hound
"Best of Friends" Sing-A-Long -- Viewers are invited to sing along with Pearl Bailey on this Walt Disney Classic Song.
Passing the Baton: Making of The Fox and the Hound -- This feature allows fans to take a deeper look at this little bit of Disney history as legendary animators hand over the reins to a new generation.
The Fox and the Hound 2
"You Know I Will" Music Video -- High School Musical Star Lucas Grabeel sings this end-credit song.
The Making of the Music -- Music is the center stage in The Fox and the Hound 2. As such, this feature showcases how the songs in the film were created with Reba McEntire, Trisha Yearwood, and some of the hottest performers in Nashville. Viewers will further discover how animation and music work together to further enhance a classic story.
Image 1 of 3
Your Daily Blend of Entertainment News
Thank you for signing up to CinemaBlend. You will receive a verification email shortly.
There was a problem. Please refresh the page and try again.