Head 20 Million Miles To Earth – Now In Color!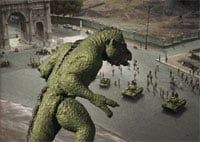 Typically I'm not big on the colorization of classic films. I want to see movies as they were originally presented – an artifact of cinematic history. Every once in a while, a justifiable change comes around however, and this might be one of those instances.
Sony Pictures is bringing the sci-fi classic 20 Million Miles to Earth to DVD in a 50th Anniversary Edition. The 1957 movie features an attack on Rome by a creature from Venus, originally freed by the first spaceship from Earth to Venus. Sure the plot sounds simple, but the movie features effects by stop-motion animator and visual effects god Ray Harryhausen, making this a huge part of visual effects history.
As part of the celebration, 20 Million Miles to Earth is being released in a digitally restored black and white print, and a colorized version supervised by Harryhausen. The effects guru recently admitted, "I am thrilled that this film is finally being seen in color. I had wanted to do the film in color in the 1950s, but our budget was not large enough to accommodate that luxury. Now, thanks to the marvelous advances made in the colorization process by San Diego's Legend Films and others, audiences will be able to see 20 Million Miles to Earth as I originally intended."
Simply restoring the original print and colorizing it isn't enough for a movie of this importance, so also included in the two-disc DVD release is a commentary track by Harryhausen, as well as producer Arnold Kunert and a few other big names in the visual effects industry: Dennis Muren and Phil Tippett. Featurettes include a look at the film's influence, the colorization process, making the movie, and even a focus on composer Mischa Bakaleinikoff.
20 Million Miles to Earth: 50th Anniversary Edition is set for a July 31st release date. Check out the box art below:
Your Daily Blend of Entertainment News