March Sees Stargate's Ark Of Truth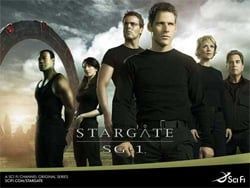 Fans of Stargate were dealt a blow last year with the cancellation of Stargate SG-1. Thankfully no science fiction series seems to die anymore, and the former television series is slated for two direct-to-DVD movies that will finish up loose storylines and bringing closure to the masses.
MGM has announced the first of these movies, Stargate: The Ark of Truth, which is set to be released on March 11th. Picking up after "Unending," the movie will finish off the primary storyline of seasons 9 and 10, "the Ori arc," which began in "Avalon."
Featuring Stargate players Amanda Tapping, Beau Bridges, Michael Shanks, Ben Browder, Christopher Judge, and Claudia Black, The Ark of Truth follows the mission of the Stargate team as they try to find an ancient weapon to use against the Ori, which leads them to the home galaxy of the enemy race.
The DVD will include a commentary by writer/director/producer Robert C. Cooper, actor Christopher Judge, and director of photography Peter Woeste, as well as three featurettes, including Comic-Con footage.
Stargate: The Ark of Truth comes to DVD on March 11th.