Schoolhouse Rock! Rocks Again For The Election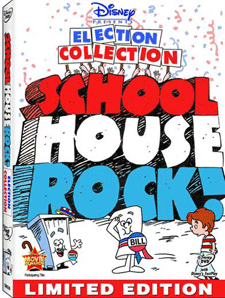 I don't care how old you are. You've probably seen episodes of Schoolhouse Rock! Whether you watched these short films as a kid, over your child's shoulder or were shown one at school, odds are you've had one of these educational and catchy tunes stuck in your head before. Well, now it's time to get them stuck all over again because Walt Disney Studios Home Entertainment is releasing School House Rock! The Election Collection on DVD just in time for the upcoming presidential election.
The series aired Saturday mornings on ABC from 1973 until 1986 and then again in the early nineties. The series was even awarded four daytime Emmys and one daytime Emmy nomination. The tunes educate children of all ages in subjects like grammar, history, science and computers.
A 2-disc DVD of the series has been released before, but this Election Collection contains only songs that are election-related. You'll find classic favorites like "I'm Just a Bill," "Shot Heard 'Round the World" and "I'm Gonna Send Your Vote to College" in addition to a new song called "Presidential Minute." This new tune even has two surprise endings. Perhaps a McCain ending and an Obama ending? The fun doesn't stop with the music. This collection also comes with an exclusive Election Tracking Kit that will make keeping track of the presidential voting results much easier.
The DVD will be available to all those children looking for important election information, young adults looking to fill the gaps in their high school coursework and even the nostalgic adult who simply misses a favorite pastime on September 23rd for $19.99.
Staff Writer for CinemaBlend.
Your Daily Blend of Entertainment News
Thank you for signing up to CinemaBlend. You will receive a verification email shortly.
There was a problem. Please refresh the page and try again.