Star Wars Saga On Blu-Ray: Cover Art And Everything Else You Want To Know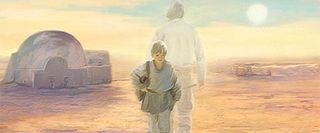 We've been talking about the impending arrival of Star Wars on Blu-ray for months now, and today it all becomes official. Today is May 4th, traditionally celebrated the world over as Star Wars Day, and to make it just a little bit more special, Lucasfilm has handed us all the in-depth details of their upcoming release of Star Wars: The Complete Saga on Blu-ray.
The set will arrive on store shelves September 16th in North America. Somewhat surprisingly, it'll arrive even sooner in international markets. Those of you outside the United States and Canada will be able to get your copy on September 12th. Included along with all six movies will be more than 40 hours of special features. As part of those special features will be deleted scenes, alternate scenes, documentaries, spoofs, and be never-before-seen content pulled from George Lucas's secret archives buried somewhere beneath Skywalker Ranch.
Some of those pieces of new, never before seen special features are set to debut at the San Diego Comic Con this summer. Star Wars always shows up big there.
You'll be able to get all six movies in one, complete set, or buy Episode 1-3 and Episodes 4-6 separately. Episodes 4-6 will be the "Special Edition" versions which means, yeah, you'll have to put up with Greedo shooting first.
Below we've got a complete breakdown of everything included in the Blu-ray sets, along with your first ever look at the Star Wars: The Complete Saga Blu-ray cover art.
Here's the Star Wars: Blu-Ray cover art. Included is the cover for the set as a whole, and covers for the original trilogy and the prequels when sold as separate sets. May the fourth be with you!
Image 1 of 3