New Trailer For Batman: The Telltale Series Is Wonderfully Gritty And Dark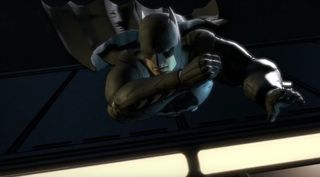 Batman: The Telltale Series has only had a speculated release date in the past, but now Telltale Games has finally come forward not only with the official release date, but also a new trailer that shows off the upcoming game.
As shown as the end of the above trailer, Batman: The Telltale Series' first episode is slated for a release at the beginning of August. Maybe the most interesting aspect about this series from Telltale Games is that they aren't going to be using an existing storyline from any of the comics, like many of the movies and TV shows do. Instead, they are going to create their own Batman storyline from scratch.
Knowing Telltale's background with narrative games, it's no surprise that they want to take this route with the new Batman game. This will give them freedom to use their decision-based gameplay without anyone knowing what the outcome might be because of what happened in the comic books. This also makes me wonder if characters will be rewritten as well, whereas maybe characters like Catwoman won't be a villain or if characters will have different relationships to each other. Regardless, it'll be interesting to see just how Episode 1 unravels.
Sadly, the only Telltale game I've played has been A Wolf Among Us and I loved it. Telltale has a talent for creating a rich and enthralling story with its games, which is why I'm so curious as to what Telltale Games is going to do with the Batman storyline. I want to know just how much is going to change. I can't imagine too much will change, but they will probably create a plot that hasn't been done before, so it puts our well-known characters into a new story.
Also, as you can see in the trailer, a number of familiar faces will be returning including Selina Kyle, Alfred, Harvey Dent, Jim Gordon, Vicky Vale and gangster head honcho Valcone.
I have been a follower of the show Gotham, which actually shows Batman in his younger years as a young Bruce Wayne and I feel like it initially shows the comic's characters in a different light. For example, numerous times you see Jim Gordon being helped by Penguin and Selina Kyle (Catwoman) is actually a friend of Bruce Wayne rather than an enemy. So I think fresh takes on the Batman series like this do really well, so I believe Telltale Games' Batman will be successful.
Batman: The Telltale Series' first episode will be releasing in just a couple weeks on August 2 onto PS4, Xbox One, PC, Xbox 360, PS3, iOS and Android. A retail version of the game will be coming to stores on September 13 and will not only include the first episode, but also the season pass for the remaining episodes in the 5-episode series. If you'd like more information on the upcoming game, you can check out the official website.
Your Daily Blend of Entertainment News
Thank you for signing up to CinemaBlend. You will receive a verification email shortly.
There was a problem. Please refresh the page and try again.