Why EA Might Have Made A Huge Mistake With Titanfall 2's Release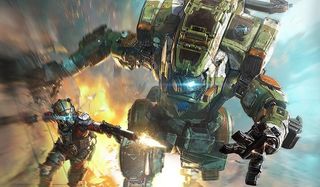 Titanfall 2 launches today but, according to a market analyst, the game may have a few too many factors working against it to become a holiday success. The primary reason? Launch timing.
According to a report from Cowen & Company, Titanfall 2 is not expected to sell too well following its initial launch. Launching during a packed holiday window isn't the only factor working against the first-person shooter, either. Competing with the likes of Call of Duty is one thing but, according to C&C, EA's choice to put Titanfall 2 on the shelves so close to one of its other shooters, Battlefield 1, was a potentially critical error.
Put simply, the report claims that Titanfall 2 is the smallest pony in a race against a pair of giants, with Battlefield 1 dropping one week before Titanfall 2 and Call of Duty: Infinite Warfare hitting one week after.
Despite the fact that Titanfall 2 comes from a great studio and early reviews have been glowing, the concern is that EA may have shot itself in the foot with this launch schedule. And while EA argues that Battlefield 1 and Titanfall 2 are diverse enough shooters to draw unique crowds, they may be misreading the market. Also, Titanfall 2's most direct competition in terms of theme and gameplay this year is Call of Duty and, while community outcry over Infinite Warfare was pretty loud, there are still plenty of faithfuls out there likely biding their time until the series they've been playing for a decade hits the market.
According to the report, highlighted over on Gamespot, Cowen & Company feel that the move was a calculated risk on the part of EA that, in the long run, might not pay off the way they had hoped. Here's some of what the company had to say:
These statements are based on projected sales for Titanfall 2, which the analyst feels will be quite a bit less than what the publisher was hoping for. Then again, these are projections we're talking about, so there's no real way to know until everything shakes out through the holiday season. While C&C may feel that EA crippled Titanfall 2 with its launch timing, things might go exactly as the publisher has planned.
Whenever I see reports like these, I'm reminded of one game in particular, Red Dead Redemption. Before that game launched, analysts were saying that the market had no interest in a Western and that "GTA on horses" was a misstep on the part of Rockstar. Obviously, gamers disagreed.
Early analysis is always worth considering, but we'll be more interested in seeing how the sales numbers for all three of these shooters shake out once the dust settles and genre fans have voted with their dollars.
Your Daily Blend of Entertainment News
Staff Writer for CinemaBlend.