Why Resident Evil 7 Is A True Sequel, According To The Producer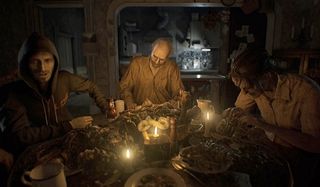 If you're worried that Resident Evil VII: Biohazard is too far removed from the series norm, Producer Masachika Kawata says there's nothing to worry about. According to him, long-time fans of Resident Evil will feel right at home, despite the game's many changes to the formula.
Kawata recently had a chat with the team at Gameinformer, talking all things Resident Evil VII. According to the producer, even though the game clearly looks like nothing we've seen out of the series to date, it's still going to pack that trademark Resident Evil punch.
It makes sense that fans of the series would be a bit wary. For starters, some would argue that Resident Evil has been on a bit of a downward trend since the beloved fourth installation in the main series, with side projects like the recently released, yet basically forgotten, Umbrella Corps doing little to build up the series' image. A dramatic change like what we're seeing with Resident Evil VII appears, to some, a hail Mary to recapture the survival horror crown.
Based on all of the demos that have come out for the game, it seemed like Resident Evil VII was barely a Resident Evil game, shifting focus to the first-person perspective and doing away with many of the series' tropes. Sure, we've seen some familiar weapons, inventory organization and even healing herbs pop up over the months, but where's the Raccoon City P.D.? Where are the series' staple characters? How about, you know, zombies?
According to Kawata, everything will make much more sense once REVII finally arrives. He argues that the team does not want to reveal too much about the game before its launch, as all of that extra mystery should help to make the game even more frightening.
In a lot of ways, that focus on fear is more "Resident Evil" than many of the series' latest offerings, putting less of an emphasis on bad-assary and more of the weight on just trying to survive a nightmare.
To be fair, everything we've seen so far spread across a trio of demos has us very, very excited for the game. We're excited to hear that Biohazard will still feel like a Resident Evil game, but we're equally excited to see Capcom take a well-established franchise in a bold new direction.
Your Daily Blend of Entertainment News
Staff Writer for CinemaBlend.
Your Daily Blend of Entertainment News
Thank you for signing up to CinemaBlend. You will receive a verification email shortly.
There was a problem. Please refresh the page and try again.