Mass Effect: Andromeda May Have A Release Date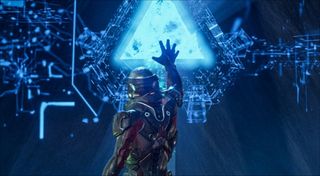 (Image credit: BioWare)
Release dates for big AAA titles are usually handled in a very secretive manner. What's more is that when it's time to reveal the release date, it's always done in a grandiose manner in order to play up the hype factors. Well, Microsoft may have subverted the hype machine by exposing the release date for Mass Effect: Andromeda.
Over on the Xbox website for their Games On Demand service, they rolled out some release dates for various games that would be available for digital download on demand upon release. Interestingly, they list BioWare's Mass Effect: Andromeda and guess what the release date shows? March 31st, 2017.
Now we don't know for sure if this is the official date. It could be a placeholder date for the game. In fact, they explicitly mention that March 31st is the cut-off date for their rewards program, and so gamers only have up until that time to pre-order games for rewards.
In fact, to slow it down a bit and explain this whole process more thoroughly... Microsoft announced a pre-order bonus program called the Xbox Live Rewards. If you pre-order three top-name AAA games between January 1st, 2017 and March 31st, 2017 you'll be eligible to receive 15,000 reward credits for your Xbox Live account. You can redeem rewards with credits and earn things such as discounts, participating in special events, as well as other special offers.
Given that the cut-off date is March 31st, it could simply mean that certain games within the rewards program have March 31st as their placeholder date to coincide with Microsoft's reward program,
However, that theory doesn't hold up too well when you consider that they list Sniper Ghost Warrior 3 as releasing on April 4th and that its release date exceeds the cut-off date for pre-ordering for the 15,000 points. There's also games such as South Park: The Fractured But Whole that has a release date as March 30th, which would mean that if they were using March 31st as a placeholder then why would they have the new South Park game's release date listed a day before the cut-off and not simply list it at the cut-off date?
This basically means that maybe these release dates are legitimate, and Mass Effect: Andromeda really is launching on March 31st. It's not an unlikely date either, given that Mass Effect 3 released on March 6th back in 2013. EA sometimes likes to pad their fourth quarter with a big game in order to carry over the revenue momentum from the holiday season and bolster strong first quarter revenue.
EA and BioWare have not revealed the official release date yet for Mass Effect: Andromeda but given that an exclusive new trailer is set to air for the game during Nvidia's CES 2017 keynote speech, it's entirely possible that the official and final release date for the game could be revealed during the big electronics show tomorrow. In fact, it would make perfect sense given the fact that Microsoft seems to have pulled the trigger early and let the news fly loose thanks to their Xbox Live rewards program page.
If the dates really are true, then it means that Ubisoft delayed South Park: The Fractured But Whole only for it to go head-to-head with Mass Effect: Andromeda. Depending on how things go at CES will likely determine how true the release dates really are.
Staff Writer at CinemaBlend.