New HTC Vive Accessory Will Let You Bring Anything Into Your VR Games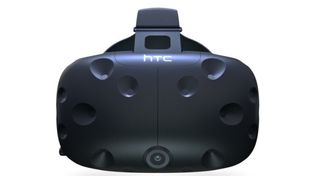 The HTC Vive came strutting onto the VR scene with a high price tag and a lot of pizzazz. The only problem is that the sales didn't quite match the strut. Nevertheless, HTC may have found a way to really tap into the casual market with a brand new accessory.
According to Polygon, at this year's Consumer Electronics Show in Las Vegas, Nevada, HTC unveiled a new Vive accessory that will let you bring anything into your VR games and it's called the Vive Tracker.
Now most times accessories seem like overkill for a lot of gaming hardware. It's rare to find a necessary accessory that actually extends and improves the gameplay. However, with the Vive Tracker it's much more than a standard accessory, it literally does what its namesake implies: it tracks... anything.
Essentially, gamers will attach the Vive Tracker to an object and use the object in the relevant app. So you could be playing a tennis game with your HTC Vive and attach the Vive Tracker to the middle of an actual real life tennis racket and use it in the game.
In one really cool example, it's explained that the tracker can be attached to prop weapons like a mock assault rifle or wireless toy gun and you can actually use it in the game. The lighthouse sensors will track the movement of the item and using motion tracking for up to eight different integration configurations.
This essentially replaces the need to have to buy an accessory for every different type of app, game or simulator out there. In the Polygon article, they use examples such as attaching the Vive Tracker to a baseball bat to help Major League Baseball players train up their batting swings, or firefighters using the HTC Vive and the Vive Tracker to simulate proper procedures for putting out fires.
There are also some examples of the accessory being used on things like golf clubs or gloves, so you could technically practice your swing in a PC golf simulator or throw a few punches in a boxing game, like Real Boxing.
The device is still a ways off from release, but HTC is handing out more than a thousand Vive Trackers to developers who may wish to integrate the device into their app, game or simulator. They want to help organically push the use of the tracker in the VR market to help lure in both casual and hardcore gamers.
There will be an application process for developers to fill out in order to get their hands on the new tracker, but they will announce that at a later date, along with the actual release date and the pricing information.
The Vive Tracker is tentatively scheduled to release at some point in the second quarter of 2017. This could prove to be a game-changer for the VR market and the overall appeal of the HTC Vive if the developmental adoption rate is high and if compelling games are produced that make sound use of the device.
Your Daily Blend of Entertainment News
Staff Writer at CinemaBlend.
Your Daily Blend of Entertainment News
Thank you for signing up to CinemaBlend. You will receive a verification email shortly.
There was a problem. Please refresh the page and try again.