How Microsoft Is Apologizing For The Gears Of War 4 Servers Being Down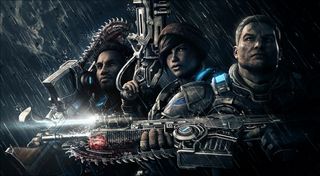 (Image credit: Microsoft)
Over the past weekend The Coalition had the mighty large task of dealing with a server outage for Gears of War 4. The outage caused a lot of gamers playing online to miss out on some special XP bonuses. Well, Microsoft and The Coalition are apologizing in a big way.
The developers announced over on their Facebook page that they would have something special in store for Gears of War 4 fans for having to deal with the outage this past weekend. They stated that they would be extending the Onyx/Swarm pack availability throughout the rest of the week all the way to Thursday morning Pacific Standard Time.
That's not all, though. They also announced that the Developers Playlist for the multiplayer mode would also be extended through to Thursday, which includes the additional credit bonus and the bonus XP for season pass holders.
The double XP bonuses for all Gears of War 4 players that was interrupted during the weekend by the sever outage will also make a return. The progression and credits that gamers were set to earn are being worked on by the developers and they plan on handing out the rewards to those who already earned those credits sometime before this week is out. They're also extending the double XP weekend to this upcoming Friday between January 20th and January 22nd.
It's a pretty cool gift to gamers who may have found their fun being cut short when they attempted to play Gears of War 4 online this past weekend only to find that the servers were down.
Some gamers were absolutely livid about the issue since they had carved out some time this weekend to play the third-person shooter with their friends and that just couldn't happen due to the downtime. Some people got angry at the gamers who were complaining about the server downtime, explaining that server outages sometimes do happen and that people should be respectful and thankful that The Coalition was quick to respond to the issue and also promise to offer additional bonuses to gamers throughout this week and into next week.
Some people, however, countered that they had invested a lot of time and energy into getting up pretty high in the game's Horde mode only to have their time cut short. A certain Eric retorted that he and his friends had made it to wave 48 in Horde Mode in Gears of War 4 and all the XP and credits they earned went kaput. This is why The Coalition mentioned that they were working on restoring XP and credits for those who were rocking and rolling strong and hard through Horde Mode when things went down.
There were also cases like Liam, who explained that he only has a few hours of free time and wanted to spend the weekend enjoying the multiplayer of Gears of War 4 after purchasing the season pass, but he was unable to do so due to the server downtime.
However, there were some who were appreciative of The Coalition going out of their way to fix the issue and offer rewards in place of the downtime. They opted to give the developers their thanks instead of complaining and mentioned they looked forward to the upcoming double XP weekend for Gears of War 4.
Your Daily Blend of Entertainment News
Staff Writer at CinemaBlend.
Your Daily Blend of Entertainment News
Thank you for signing up to CinemaBlend. You will receive a verification email shortly.
There was a problem. Please refresh the page and try again.