Two New Xbox One Bundles Are On The Way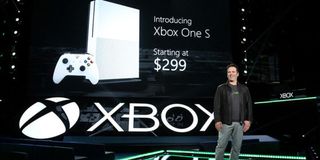 Winter is here and temperatures are dropping, which is probably why Microsoft wants gamers to take the proper precautions and bundle up. To aid in that task, they're actually offering a couple of new Xbox One S bundles that should help keep you indoors and warm in the coming months.
Over on Xbox Wire, they're reporting that a pair of new Xbox One bundles are here to help get 2017 started with a bang. One features a hit from 2016 while the other boasts a potential big get for 2017. If you're looking to game with Microsoft and wouldn't mind a copy of Forza Horizon 3 or Halo Wars 2, then you might want to take a gander at these latest offerings.
Kicking things off is the Xbox One S Halo Wars 2 Ultimate Edition Bundle, which is now available for pre-order out in front of the game's Feb. 17 launch date. You can pick up this bad boy for $349.99 and snag yourself a 1TB Xbox One S, a copy of Halo Wars 2 Ultimate Edition, an Xbox Wireless Controller and, to help get you started with online gaming, a 14-day trial of Xbox Live Gold. Whether or not you plan on keeping your Gold Subscription, don't forget to grab those free Games With Gold while you're at it.
As for Halo Wars 2, the game is coming along quite nicely. The developers have already hosted a beta for the core strategy game, as well as the inventive card battle mode that will be included this time around. The Ultimate Edition usually retails for $80 and includes the game and a Season Pass for future DLC. If you were planning on getting an Xbox One in early 2017, this might be the way to go.
Or, if you instead feel the need for speed, then you can grab one of two bundles made for Forza Horizon 3, which are available now. Similar to the Halo Wars bundle, these bundles include a copy of their titular game, a console, controller and 14-day trial of Xbox Live Gold. The difference is in the hard drive.
One version of this bundle comes with a 1TB hard drive and the other comes with 500GB. The latter will set you back $299.99, which goes toe to toe with the Nintendo Switch, while the former is the usual $349.99. While they're currently available through Microsoft's own online store, you'll actually need to wait until Feb. 7 if you are hoping to just spot one of these out in the wild.
If you're a fan of driving games and are looking into grabbing an Xbox One, then you probably want to pick up one of these bundles. It's considered one of the best racers, period, and boasts a huge roster of both events, locales, and vehicles to enjoy.
Staff Writer for CinemaBlend.