Here's When We'll Get More Details On The Future Of Sonic The Hedgehog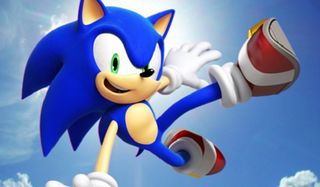 If your life is feeling pretty empty without a new Sonic the Hedgehog game in it, you won't have to wait much longer before that speedy rodent dashes back onto the scene. It looks like a pair of new Sonic games are on the way, with more details on both heading our way at an upcoming event.
According to a recent report from Gamespot, the folks from Sega will be attending South By Southwest (SXSW) this year, and they're planning to make Sonic a big part of their presence. In fact, they're going to have an entire panel devoted to the guy, called "Gotta go fast: The official panel of Sonic the Hedgehog." Just to clarify, that means any other Sonic panels you planned on attending at SXSW are unofficial and should be mocked profusely.
According to Sonic Team's Takashi Iizuka, the big focus of this panel will be the upcoming Sonic Mania, as well as an unannounced game set in the Sonic universe. The panel will also go over Sonic's "resurgence" in the gaming world, so you folks who have been following the guy since his day's on the Sega Genesis will probably want to mark your calendars, assuming you're also planning on attending SXSW.
The first big announcement will be some sort of new reveal for the previously announced Sonic Mania, the upcoming game that aims to bring the series back to its roots. While Sonic games have been drip-fed to the market over the years, the vocal majority seems to believe that the classic titles remain the best. Sonic Mania looks to be capturing the spirit of the original trilogy, so it definitely has our attention.
As for the unannounced game, well, we clearly have no idea what it could be. Mobile has proven a solid market for spinoff titles tied to beloved franchises, so we wouldn't be surprised if Sega is heading the Nintendo route with something light, fast and fun. Then again, how about a Sonic Adventure 3 for Nintendo's upcoming Switch console? This is all speculation, of course, so we figure we might as well dream big while everything is still a mystery.
The original announcement also states that, since Sonic is involved, other surprises are likely to pop up during the SXSW panel. Also making an appearance at the event will be series voice actors Roger Craig and Mike Pollock, who lend their pipes to Sonic and Dr. Robotnik, respectively.
The big show takes place on March 16, beginning at 3 p.m. PT. Sega hasn't made announcements about streaming or anything but, no matter what gets announced, we imagine we'll be delivering all of the details in short order. Until then, get ready to go fast.
Staff Writer for CinemaBlend.
Your Daily Blend of Entertainment News
Thank you for signing up to CinemaBlend. You will receive a verification email shortly.
There was a problem. Please refresh the page and try again.