Skyforge Is Coming To PlayStation 4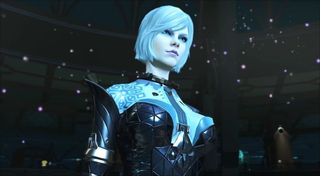 (Image credit: My.com)
The team behind the unique new MMO Skyforge announced that they are bringing their game to the PlayStation 4. The free-to-play game is due to drop on Sony's console starting this spring, with sign-ups currently open at the moment for those who want to register their PSN ID early.
The news was posted up over on the official PlayStation Blog, where producer Volker Boenigk detailed what the game was about and what PS4 gamers could expect from the title. They expect to launch the game on PS4 at some point in March, and if you register your PSN ID now you'll receive a free Immortal Pack gift for when the game does launch. PlayStation Plus members will receive an extra bonus that includes a high-tech armor and wing set that looks as if they were borrowed Overwatch's Mercy.
Unlike other MMOs out there, Skyforge allows players to switch between 14 different classes on the fly. During the middle of battle, players will be able to select the class they need during that moment and bring them into the fight. So if you're getting stomped and you need a healer, you can switch out to a healer. If you're having a hard time dealing damage and you need DPS, you can switch out to a damage dealer. If you're having a hard time taking hits, you can switch out to a tank.
The story centers around an immortal named Aeli who protected the world of Aelion from incessant attacks from alien invaders. After departing from Aelion, Aeli left the gift of immortality to a select few, allowing them to pick up where he left off and defend the world from the invaders.
Unlike other MMOs with tab-targeting, such as World of Warcraft or Aion Online, Skyforge uses action-oriented combat to allow gamers to play in a much more fast-paced way. The cinematic trailer gives the impression that it's similar to Warframe, which you can check out below.
The game was originally announced three years ago back in 2014, but it didn't enter into beta on PC until 2015. They spent some time upgrading and working on the title so that they could release it in 2017 for PS4.
The actual gameplay itself is designed like a third-person shooter, it's similar to Phantasy Star Online or Defiance. The combat is all real-time and non-targeting. What that means is that you won't have enemies auto-selected for you and the camera won't automatically look at the enemy unless you specifically highlight them, similar to the game RaiderZ or TERA Online.
It's hard to tell how popular Skyforge might be on the PS4, but if they ironed out all the kinks that plagued the beta on PC, then they might be able to find the same sort of success that Smite did on home consoles.
Your Daily Blend of Entertainment News
Staff Writer at CinemaBlend.