Here's What PlayStation Plus Members Will Get For Free In March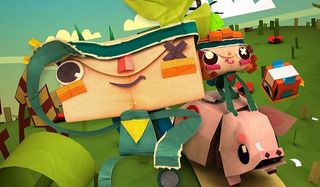 March is upon us, which means it's time to take a look at a fresh crop of games coming to the Instant Game Collection from PlayStation Plus. Get ready for future sports, adorable papercrafts, massive insects and magical puzzles.
Over on the PlayStation Blog, they've announced the six new games being added to the Plus lineup for March. They'll be available starting next Tuesday, March 7, and will rotate out on Tuesday, April 4. As always, there are two games per Sony platform, including the Vita, PlayStation 3 and PlayStation 4, though the PS4 crowd gets an extra title thanks to cross-play. Here's the full rundown for March.
Disc Jam (PS4)
Tearaway Unfolded (PS4)
Under Night: In-Birth (PS3)
Earth Defense Force 2025 (PS3)
Severed (Vita)
Lumo (Vita, PS4)
There's just no pleasing some folks, so we weren't surprised to see the usual amount of complaining peppered through the comments section of the PS Blog post. As for our take, this is a pretty fantastic lineup pretty much anyone should be able to get some enjoyment out of.
For starters, the PlayStation 4 games are killer. Disc Jam is launching as a Plus game and, based on the recent beta, this game is actually a hell of a lot of fun. Comparisons are being made to Rocket League, because it's an entertaining title that's basically come out of nowhere. And similar to Rocket League, launching on Plus means a lot more people will be willing to give it a try from the get-go, so hopefully, it catches on with a strong community.
And then there's Tearaway Unfolded, an expanded take on the critically acclaimed and criminally overlooked Vita platformer. If there's a heart beating in your chest, you should find plenty to enjoy in Tearaway.
The PlayStation 3 lineup is a bit more unexpected, but it's also rad-as-hell. Under Night: In-Birth is a fantastic 2D fighting game that fans of the genre absolutely need to check out. As for Earth Defense Force 2025, you get to blow up buildings and fight massive insects with machine guns. It's one of the campiest series we've ever played, and it has a diehard following for a reason. Sometimes you just want to turn off your brain and destroy big bugs.
Finally, over to the Vita, and we're looking at another pretty fantastic pairing of games. Lumo is a nifty platform puzzler that tasks the player with working their way through more than 100 rooms of traps and surprises. It's cross-play with the PS4, too, so add it to your console library if you don't have a Vita lying around. And then there's the excellent Severed, another Vita gem that not nearly enough people played. Thanks to Plus, that's all about to change.
Staff Writer for CinemaBlend.