How Powerful You PC Should Be To Play Ghost Recon: Wildlands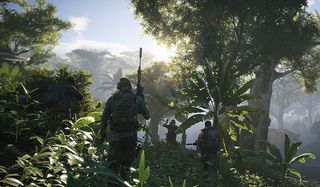 Ghost Recon: Wildlands has been unleashed on the gaming masses, allowing players to team up and take down deadly drug cartels in a big, beautiful, highly detailed world. But with such a big and demanding game, that's got some PC players wondering if their rig can handle the load.
Over on Gamespot, they decided to take Ghost Recon: Wildlands for a spin through some benchmark testing to determine what setting will work best for PC gamers. According to the game's official site, Wildlands requires a pretty beefy computer to get it up and running. You'll need 6GB of RAM and 2GB of VRAM, but that's pretty standard these days. As for the CPU, they recommend an Intel Core i5-2400S @ 2.5 GH or equivalent. Over to the GPU and the supported list includes the likes of the NVIDIA GeForce GTX 600/GTX 750 Ti/GTX 950/GTX 1050 (2GB VRAM with Shader Model 5.0 or better).
For many gamers, that's just a whole bunch of numbers and acronyms. What it translates to is: you're going to need a pretty current computer to even get Wildlands up and running. To check this, the Gamespot crew took the title through its paces, concluding that Wildlands is an "incredibly demanding" game on the PC if you want to play it at its highest settings. They point out that the fastest graphics card out there, the GTX 1080 Ti, even had trouble keeping up with full settings and 4K resolution. In other words, the "sweet graphics" of modern games are outpacing the hardware available by a decent margin.
The final conclusion is that the open world and many moving parts of a game like Wildlands are simply too demanding for a modern rig but, again, that's if we're topping out the settings. We're also reminded that upcoming patches, drivers and the like could help make this a problem of the past in the case of Wildlands.
And, let's face it, most of us aren't too worried about playing our games on uuber settings. The cost of building a computer that can keep up with the times is likely a bit too restrictive for your average gamer. The silver lining here is that, if you aren't looking for the highest performance available, the game runs perfectly well on lower settings. If you've got a pretty decent rig and knock the settings down to Very High or even High, things should run smoothly and, again, Wildlands is still going to look fantastic in action.
We understand wanting a game to look as good as possible, but it also seems counter-intuitive to build something out to a degree that a fraction of a fraction of your audience will even be able to enjoy. Then again, that audience still exists, so it's nice to see that Wildlands will look eye-bleedingly gorgeous for those who can take advantage of those higher settings.
Your Daily Blend of Entertainment News
Staff Writer for CinemaBlend.