Fallout 4 Is Getting A Free Weekend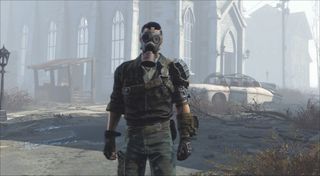 (Image credit: Bethesda)
If you missed out on Fallout 4 when it first launched back in 2015 and now you want to give the game a go, you can do so throughout this weekend... for free. The game will be available for both Xbox One and PC users, enabling gamers to play through the title without any restrictions.
Eurogamer is reporting that the free weekend was announced for both Xbox One and PC users. The game will be free starting Thursday, 6pm British Standard Time for Steam users. That would put it at around 1:00pm Eastern Standard Time, or 10:00 am Pacific Standard Time for Americans. You might want to set your alarm clock because if you wait too late the Steam client might get clogged from all the users attempting to get on and play the game. It's happened before when big events take place on Valve's digital distribution service.
Alternatively, if you have an Xbox One and you want to play Fallout 4 over the weekend, you can look to get in on the action starting 8:00am BST, which means that would be 3:00am EST. So you shouldn't have any troubles downloading and accessing the game from the Xbox Store.
Both versions of Fallout 4 will be accessible over the weekend, including Friday, Saturday, and Sunday. The free weekend will wrap up on Monday morning at around 8:00am BST, which is extremely early in the morning (or very late at night) for those on the East Coast. This would also mean those on the Pacific seaboard will have up until the strike of midnight on Sunday to get their hands on the game and play through the free weekend before it cuts out.
During this time Eurogamer reports that Steam users will also be able to purchase Fallout 4 at a discounted rate. The discounts will last longer than the free weekend, and you'll have up until the strike of dusk on Monday to get in on the sales deal.
Sadly, PlayStation 4 owners will not be able to participate in the free weekend. They don't say why but if you're playing on PS4 you're fresh out of luck. You will, however, have an opportunity to buy the game at a discounted rate.
This is the basic version of the game, so you'll be able to get your feet wet and experience the goodness of a post-apocalyptic Boston, Massachusetts. For Xbox and PC owners you'll also have access to a wide variety of mods that users have been able to create. Sadly, PS4 owners can only access a limited number of mods due to the fact that external assets aren't permissible for Fallout 4 on PS4. Xbox One users are limited to around 2GB of mods, so you won't be able to access UHD mods or total texture conversions, but you will be able to grab some companion mods, some weapon and clothing mods, as well as new customization and building mods.
Some of the commenters noted that HTC Vive and Oculus Rift owners might want to hold off on purchasing Fallout 4 right now until Bethesda unveils Fallout VR, as there's been a lot of hype surrounding that iteration of the game for VR headsets. Even still, the VR thing shouldn't prevent VR headset owners from enjoying the free weekend.
Staff Writer at CinemaBlend.
Your Daily Blend of Entertainment News
Thank you for signing up to CinemaBlend. You will receive a verification email shortly.
There was a problem. Please refresh the page and try again.