Kingdom Hearts 3 And The Final Fantasy VII Remake Are Even Further Off Than We Thought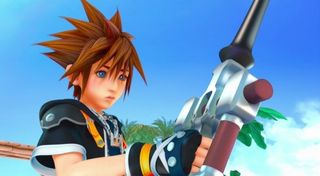 (Image credit: Square Enix)
If you were expecting to get your hands on either Kingdom Hearts 3 or theFinal Fantasy VII Remake anytime soon... your expectations are way too high. Square Enix revealed that you won't be getting your hands on either game for a while since they're both further off than we thought.
In the Square Enix financial report, there's a comment from Square president Yosuke Matsuda that IGN picked up, and you're not going to like what he had to say about both high profile AAA titles. He stated...
Yikes.
As you can imagine the comment section was not very pleased with the news. This meant that all of those hopes and dreams about playing and finishing Sora's story in Kingdom Hearts were dashed with a single sentence.
It meant that a lot of gamers would have to wait from somewhere between 2018 and 2020 before Final Fantasy VII Remake and Kingdom Hearts 3 would be complete.
To be fair, most people probably wouldn't have expected Final Fantasy VII Remake to launch anytime soon given that it wasn't until 2015 did they even announce that Final Fantasy VII was getting a full remake. That was just two years ago. So it would make sense that if they started work on it in 2014 the game likely would take five years to complete since it's running on the Unreal Engine 4 and not the Luminous Engine that powered Final Fantasy XV.So they're literally building the game from scratch, which includes all new models, all new rigging, and all new voice acting, scenarios and sound effects. Sadly they won't be borrowing the old assets from high-quality CG-tier assets that were used in the Final Fantasy VII: Advent Children movie.
Building a game from scratch takes a really long time, as evident with Final Fantasy XV, which had its development restarted several times.
In the case of Kingdom Hearts 3, the game was first teased way back in 2013. This is probably the reason why so many people are now a bit on edge for the game because if it doesn't launch until 2020, it will have taken more than seven years to design the game.
Tetsuya Nomura, the director of Final Fantasy XV and Final Fantasy VII Remake, is also the director for Kingdom Hearts 3. Despite already being signed on to direct two of Square's biggest AAA titles, they also have him directing a third AAA title.
Progress on the development of Kingdom Hearts III has been slow as a result of Nomura having his priorities scattered across several other big projects. This has resulted in some people wondering if maybe it would have been better to have someone head up the project. Of course, it's also being developed on the Unreal Engine 4, so at least there's a measure of streamlined workflows that can be shared between how systems and mechanics will be developed for both games.
The only problem is that gamers will have to wait up to three years before they'll be able to play either project.
Staff Writer at CinemaBlend.