New Details On Nintendo Theme Park Hint At The Ride We All Knew Had To Happen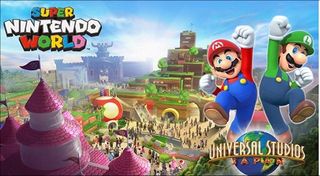 Nintendo is prepping to make a big wave with their brand new amusement park made in collaboration with Universal Studios. After the big announcement they kind of went dark... until recently. Some new information has surfaced hinting at a ride we all knew had to happen. It sounds like a ride based on Mario Kart will be a part of the park.
Gamespot is reporting that Nintendo has filed a trademark with the United States Patent & Trademark Office for "Super Nintendo World". The trademark relates to amusement parks and services, and they note that the application covers special events at an amusement park, along with key words "organisation, management, or arrangement of kart racing".
Of course, the last line is what set everyone off because the first thing that comes to mind is Mario Kart.
The application filing just took place last week, on May 24th, according to the document status on the USPTO website. This is just ahead of the ARMS global testpunch they held over the weekend, which started May 26th. It makes sense why some people may have missed the filing last week because many were probably too busy prepping to get in on the weekend beta test for the upcoming Nintendo Switch exclusive.
However, the filing reveals something that many of us had been hoping for when Universal Studios and Nintendo first made their announcement: that there would be a Mario Kart style go-karting venue featured at the theme park.
They don't appear to go into any detail on the use of the karts, or whether there will be some sort of augmented reality element to the whole thing, but it's likely that it'll just be a standard go-kart course themed after some of Nintendo's most popular tracks from the Mario Kart franchise.
Of course, one thing worth noting is that the description is attached to other generally themed amusement park areas, such as management and organization, along with arcade machines and amusement machines. So it's possible that the trademark filing is just covering all the bases and is a wide-sweeping description as opposed to being a detailed account of what's actually going to be there.
Nintendo and Universal originally made the announcement about Super Nintendo World back in November, during the holiday season of 2016. Since then I imagine they've been hard at work at getting the theme park management and facilitation underway before actual construction begins.
Most people are just excited to see what many of Nintendo's properties will look like in real life. We've had various bars, stores and cafes theme their shops around Nintendo's properties, but this will be the first time that Nintendo goes big in a way that's comparable to Disney World.
They plan on having multiple Super Nintendo World locations, and the one in Japan is scheduled to go live in 2020, just in time for the Olympics, set to take place in Tokyo, Japan.
At least we know that Nintendo has plans on bringing some sort of go-karting experience to the Super Nintendo World theme park. So, for those of you who can't get your hands on a Nintendo console or play the Mario Kart games, you might be able to do it in real life when 2020 rolls around.
Staff Writer at CinemaBlend.
Your Daily Blend of Entertainment News
Thank you for signing up to CinemaBlend. You will receive a verification email shortly.
There was a problem. Please refresh the page and try again.