Assassin's Creed: Origins Looks Like It Was Worth The Wait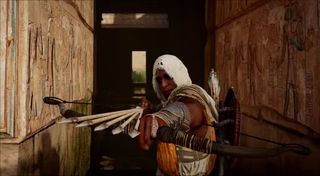 Ubisoft finally unveiled its closely kept secret of this year's outing of Assassin's Creed. They skipped out on a game last year in order for the major motion picture to take the place of a game while the team ironed out the brand new Assassin's Creed: Origins. Now they have. Check it out below.
The trailer was released alongside a gameplay walkthrough over on the official Ubisoft YouTube channel. The original trailer talks about how the Egyptian empire was built and how the first of the Assassins formed the Brotherhood. His name is Bayek, and he works with his trusty eagle to scout.
The initial trailer focuses on the game's environments, travel, and setting. Ubisoft actually stays rather tight-lipped about the story beyond the fact that Bayek will attempt to build the Brotherhood while presumably facing off against something equivalent to the Templar, but obviously not the Templar since they didn't come along until around the 12th century A.D.
Some gamers are speculating that the setting is around 50 B.C., since they believe that Bayek will meet with Cleopatra at some point, and given that Ubisoft is absolutely known for including actual historical figures in their game, it wouldn't be surprising if Bayek actually meets up with a few of Egypt's most renown historical figures.
A second trailer walks gamers through the actual gameplay where they reveal that yes, they've managed to take features from Watch Dogs 2 and Far Cry Primal and apply them to Assassin's Creed, specifically the drone and owl gameplay.
The drone-style observations and first-person bow and arrow gameplay really adds a lot to the tactical elements of Assassin's Creed: Origins.
Another new feature the developers added is the ability to jump and attack while falling, similar to what Nintendo implemented for Legend of Zelda: Breath of the Wild. That was actually a really surprising twist I didn't expect to see in the game.
One of my personal pet peeves with Assassin's Creed games was how restricted and cumbersome the controls were when attempting to pull off multi-stealth kills. Here in Assassin's Creed: Origins the ability to multi-combo the stealth kills is really impressive and definitely lends itself well to players who want to be able to take out more than two people without making a lot of noise.
Ubisoft has plans on launching the upcoming title on October 27th for the Xbox One, Xbox One X with full native 4K support (although personally I would have settled for 1440p at 60fps), PS4, PS4 Pro and on PC.
Staff Writer at CinemaBlend.
Your Daily Blend of Entertainment News
Thank you for signing up to CinemaBlend. You will receive a verification email shortly.
There was a problem. Please refresh the page and try again.