Breath Of The Wild's Hard Mode Won't Overwrite The Main Game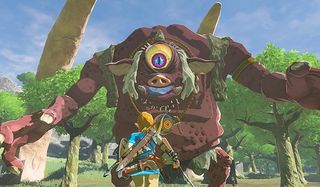 If you've played The Legend of Zelda: Breath of the Wild on the Wii U or Switch, then you know that starting a new game will override all previous save files for a given profile. Thankfully, Nintendo has confirmed that players will be able to dive into the game's upcoming hard mode without fear of wiping all of their progress in standard mode.
When Hard Mode gets released as part of the first DLC pack for Breath of the Wild later this month, it will allow players to create a separate save file under the same account. That seems like common sense, but the game's original handling of save files gave us cause for concern. Whether you played on the Wii U or Switch, there was only one save file allowed for the game per profile. So if you wanted to try something new in Breath of the Wild and start back at the beginning, it meant all of your progress up to that point would be erased. The only solution was to create another profile and begin the game anew, but that's kind of a pain in the butt.
Thankfully, as Polygon is reporting, Nintendo has updated its U.K. website to explain that a separate save file will be created for the upcoming Hard Mode; also known as Master Mode in territories outside the U.S. In other words, no matter where you are in the story in normal mode, beginning a hard mode file will not affect your progress. You'll be able to play both versions of Breath of the Wild without fear of losing all of your in-game goodies.
Of course, Hard Mode is only one part of the first DLC pack coming to Nintendo's heavy hitter. Due out next Friday, June 30, "The Master Trials" will also include a new Hero's Path map that lets you see exactly where you've gone exploring, some new gear and outfits, a Trial of the Sword horde mode and even a Travel Medallion that will let Link create one fast-travel point wherever he is standing on the map.
That pack is part of an Expansion Pass you can purchase for Breath of the Wild, which will set you back $19.99 and cannot be purchased piece meal. The second part of the DLC pass is called The Champion's Ballad, which is due out this holiday season. All we really know about that content is that it will be story-driven and feature heroes of multiple in-game races. Also, Zelda herself appears to be grouped with the heroes, so, hopefully, she'll be playable in that new content. We imagine all sort of other fun bits and bobs will be announced for The Champion's Ballad before it launches later this year.
Your Daily Blend of Entertainment News
Staff Writer for CinemaBlend.