When Sub-Zero Is Coming To Injustice 2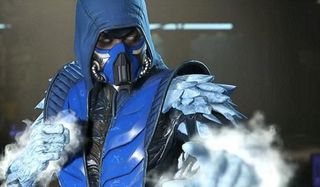 Sub-Zero is the next DLC character set to pummel the competition in Injustice 2 and, thanks to a recent tweet from Director Ed Boon, we now know exactly when the Mortal Kombat mainstay will be venturing to a brand new realm. Bundle up, because July is going to get frosty.
To make his announcement, Boon drew inspiration from the Game of Thrones series, explaining to fans on Twitter that "winter is coming" in July. The hottest month of the year is going to drop a few degrees in Injustice 2 as Sub-Zero joins the fray on July 11.
That probably comes as fantastic news to series fans, as new characters means a whole new set of moves to master for both offense and defense. Sub-Zero is actually only one of nine DLC characters coming to Injustice 2 and, if it feels like they're going a bit overboard, remember that the game launched with a roster of nearly 30, very distinct characters.
Sub-Zero is actually the second DLC character for Injustice 2, with NetherRealm Studios launching the popular antihero Red Hood just last month. Like all of the other characters in the game, Subby will have a wide array of abilities to draw on, a unique Super, fun dialogue with all of the other characters, and an arsenal of cosmetic items to equip and alter his stats/abilities.
The only other DLC character that has been confirmed at this point is Starfire and, assuming the developer sticks to this one-a-month formula, players can likely expect her sometime this August. As for the remaining six DLC characters, their identities are unknown at this time, though silhouettes are holding down the fort on the character select screen. There's been plenty of speculation as to who they might be, but NetherRealm has offered nothing concrete at this point.
If you bought one of the mega versions of Injustice 2, then Sub-Zero will be available at no extra charge when he becomes available on July 11. Otherwise, he'll set you back $6 solo or as part of a three-pack for $20. That seems to be the going rate for new characters in other fighting games, plus the bundles include extra color pallets, skins and the like.
As for what to expect out of Sub-Zero, fans of the Mortal Kombat series should have a pretty good idea. The guy incorporates ice into a lot of his moves, including freezing his opponents, creating icy shields, sliding across the ground and crafting weapons out of ice. The move from Injustice 2 I really got a kick out of involved Sub-Zero creating an ice clone of himself and then throwing it at his opponent.
Between this, Tekken 7 and even Switch games like ARMS and Pokken Tournament, 2017 is shaping up to be a really solid year for fans of fighting games.
Staff Writer for CinemaBlend.
Your Daily Blend of Entertainment News
Thank you for signing up to CinemaBlend. You will receive a verification email shortly.
There was a problem. Please refresh the page and try again.