Conan Plays Cuphead, Flirts With Kate Upton, In New Clueless Gamer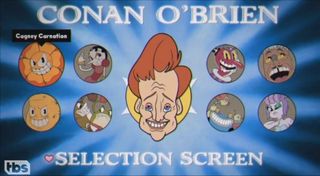 Conan O'Brien played the upcoming Studio MDHR title Cuphead on the Xbox One alongside Kate Upton in the newest Clueless Gamer episode. The duo didn't spend a whole lot of time with the game in the video, but Conan definitely spent plenty of time flirting with the supermodel.
The video is currently trending at the moment, as of the writing of this article, after it was posted up to the Team Coco YouTube channel. It's nearly six minutes in length, featuring Conan spending an inordinate amount of time flirting it up with Kate Upton and trying to win her over while repeatedly dying in Cuphead.
Actually, before they even get to the game Conan decides to woo Kate with a fancy dinner, some wine and a violinist. It doesn't seem to help much as Kate is actually more focused on winning the game than Conan's flirtatious advances. In fact, during the co-op missions Kate managed to survive longer than Conan, just until Conan drinks some wine and spits it out due to how terrible it tastes, causing Kate to lose focus and die.
Eventually the duo manage to beat a boss by working together by using one controller. It's as awkward as it sounds.
After finishing up the session Conan asks Kate about their experience together, and she quips that it was good that she was able to help him experience "winning".
The comment section for the video was brutal, though. While a lot of people still gave the episode a "Like", many more expressed their dislike of Conan bringing on celebrities to play games, especially when they're disinterested in playing. In some rare cases the lack of interest can make the Clueless Gamer segment funny, such as when Game of Thrones' Peter Dinklage was a guest star on the show along with his co-star Lena Headey, and Dinklage seemed to show absolutely no interest in playing Overwatch, which ended up becoming the butt of many of Conan's jokes throughout the episode.
In a way, disinterest can work if, and only if, there's some comedy to be derived from the event. In this case, Kate definitely seemed interested in Cuphead but Conan didn't, so the episode seemed... off.
A lot of the comment section, however, were actually interested in Studio MDHR's game, and many people were asking to see more of it. So in a way the advertising of the game on Conan's channel did work because people were actually more inclined to see the old-school, hand-animated platformer than they were Conan's antics with Kate.
Whether you liked this episode of Clueless Gamer or not, you'll be able to play Cuphead for yourself when it launches on September 29th for the Xbox One and on Windows for PC.
Staff Writer at CinemaBlend.
Your Daily Blend of Entertainment News
Thank you for signing up to CinemaBlend. You will receive a verification email shortly.
There was a problem. Please refresh the page and try again.