The Xbox One Dashboard Is Getting Another Big Update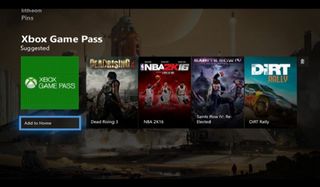 If you've been hoping for a revamped Xbox One dashboard, then Microsoft is here to deliver. Starting today, a new update will be made available to Xbox Insiders and, among a handful of other features, it will be reworking how players get to their games, media and other functionality.
News of the new dashboard went live on the Xbox Wire earlier today, explaining that the update will affect Xbox gaming on the home console, as well as Windows PCs. According to the announcement, the update is geared toward making the act of using your Xbox more "fun, personalized and social than ever."
According to the announcement, Team Xbox took player feedback into account when redesigning the dashboard, which updates Home, Guide and Community functionality. Those updates are available now for Insiders, with additional updates planned to affect Avatars, Game Hubs, Profiles and more. If you're gaming on the PC, then you'll notice some changes to the Game Bar and settings menu.
The biggest change coming in this update is the ability to customize your home screen. If you want to keep games like Dead Rising 4, Crackdown 3 or Halo Whatever front and center, you can now do that. Apparently, the look of the new home menu is part of the Microsoft Fluent Design, which is built on the idea of making navigating your console a faster experience. On top of games, you can add favorite friends to your home screen, so you can see what they're up to as soon as you boot up your Xbox One. If there's something you want to add to your home screen, you just need to highlight it, hit the Menu button and select "Add to Home." Additional "content blocks" will be made available down the road, letting users customize their experience with even more apps and whatnot.
The other big change with this update is what's being referred to as "effortless guide navigation." Again, it's designed with speed in mind, letting players switch between tabs quickly so they can "join friends, broadcast, switch between apps and get back to home" with a quickness. Tab flyouts have also been added so you can see more content more quickly.
Finally, the community section now has a new Activity Feed layout, making it easier to see what your pals, or perhaps your Fortnight Club, is up to. Also a nice tweak, the comments tab has been expanded to fill the full window, so no more squinting to try and read what everybody is saying.
As noted above, the big change for PC is an improved Game Bar. You can enable or disable Game Mode on a per-game basis now, while broadcasting through Mixer features a Game Bar with more options than ever.
Give it a try on your own Xbox One and let us know what you think in the comments below.
Staff Writer for CinemaBlend.