How Skull And Bones Is Different From Black Flag, According To The Developer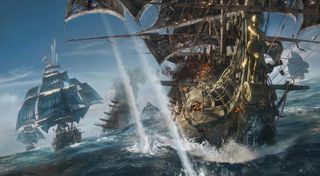 (Image credit: Ubisoft)
Ubisoft has a new IP on the horizon based around the naval paradigm from Assassin's Creed IV: Black Flag. However, Ubisoft doesn't necessarily want people to stay stuck on the idea that Skull and Bones is just another Black Flag in a different skin.
Speaking with Gamespot, creative director Justin Farren from the Ubisoft Singapore studio explained what makes Skull and Bones stand out and stand apart from the Assassin's Creed franchise, and specifically how it separates itself from the most popular Assassin's Creed game, Black Flag, saying...
The interview focuses a lot on how Skull and Bones is being designed to really take advantage of the newer tech and advances that Ubisoft made within the Assassin's Creed franchise in order to create this unique naval experience.
For one thing, the Ubisoft Singapore studio had previously worked on Assassin's Creed: Syndicate, Assassin's Creed: Unity and Assassin's Creed IV: Black Flag. So the studio knows the ins and outs of how to create a large and immersive world, as well as what worked with the naval aspects and what didn't.
The team isn't letting that experience go to waste, and are working hard to help shape Skull and Bones with its own identity. This even extends to the game's payment and monetization setup. According to Farren, the team is working on creating a system that will allow players to purchase microtransactions that will continue to help the game grow, much like what the other teams are doing with For Honor and what Ubisoft managed to accomplish with Rainbow Six: Siege. However, at the same time there's also some effort being put into making sure that the game isn't pay-to-win, which is one of the biggest hurdles that most online multiplayer games suffer from once a cash shop is introduced.
According to Farren, the team is avoiding structuring a monetization system similar to other free-to-play competitive games like World of Warships or Armored Warfare.
One of the things that Farren mentions that became the catalyst for the heart of Skull and Bones is that the was borne out of the fact that after Ubisoft Singapore worked on Black Flag it was a question of why isn't the sailing aspect its own game? So that's exactly what it ended up becoming... and the core concept centered around having your very own pirate ship and customizing it to your liking.
Your Daily Blend of Entertainment News
Staff Writer at CinemaBlend.