Bayonetta May Be Getting Remastered For Current Consoles, Here's What We Know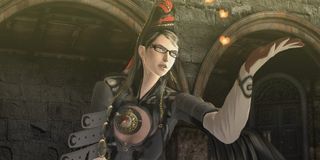 (Image credit: Sega)
Platinum Games Bayonetta has been in the news quite a bit this year. The witch-empowered heroine made a comeback earlier in the year on PC with a re-release of the original game making a much-appreciated appearance on Steam, and now she could be making a comeback again on the PS4 and Xbox One.
Game Informer is reporting that there are listings popping up for Bayonetta and Vanquish for the Xbox One and PS4. The listings have appeared on a UK retailer outlet, which is promoting a two pack that contains both Vanquish and Bayonetta.
Rumors have spurred that the two pack may contain remastered versions of both games. However, neither Platinum nor Sega (the publisher of the games) have confirmed that the packs are legitimate and actually coming.
Usually, however, when the rumors pop up ahead of the actual announcement for a remaster or re-release and there's some measure of veracity to them, it usually doesn't take long for the developer or the publisher to chime in and confirm or deny the legitimacy of the rumors.
Since this rumor is so recent, it may take a while for Platinum to offer a proper announcement about the matter. In any case, this news actually makes an awful lot of sense given that just earlier this year Sega decided to port over both of Platinum's games to Steam.
Not only were both games ported but time was invested into upgrading Vanquish and Bayonetta to support 4K and 60fps gameplay, along with various other small enhancements to increase the gameplay experience on PC. It would seem like a waste not to make the next logical step and put both of the remastered versions of the PC releases on the PlayStation 4 and Xbox One, especially considering that both consoles are running x86 architecture and have been designed to accommodate porting to and from for PC with relative ease.
Heck, the PS4 Pro and Xbox One X versions might even be able to properly handle running the games at native 4K and 60fps, which would probably be a welcome addition for home console owners.
This also ties into some of the recent chatter coming out of the development studio, where Platinum has been teasing some sort of announcement for Bayonetta. Some people believe it may be a Bayonetta 3, but the more likely answer being a port for the PS4 and Xbox One makes a heck of a lot of sense.
Some gamers have expressed discontent with various games being remastered and ported to the Xbox One and PS4, but in a way, it makes sense that games most people missed out on are the games being remastered so that a new audience is able to play them. A ton of people did not get a chance to play Vanquish when it first released on Xbox 360 and PS3 last gen, and Bayonetta was strictly a niche game -- that's not to mention that since no publisher was willing to fund the sequel, Nintendo ended up stepping in to exclusively publish and distribute Bayonetta 2 on the Wii U, which further limited the audience's reach.
However, we'll have to wait to see if the rumor about the double pack is true.
Your Daily Blend of Entertainment News
Staff Writer at CinemaBlend.