Assassin's Creed: Origins Announces Season Pass Details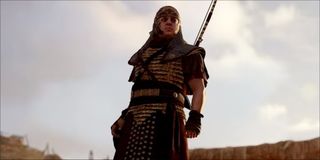 (Image credit: Ubisoft)
Ubisoft may be steering clear of premium-priced microtransaction loot boxes for Assassin's Creed: Origins... for now. However, the company will most definitely have a series of DLC expansions released for the game, so much so that it will require a season pass if you want to get your hands on all of the content at an affordable price.
The announcement was made via a post-launch roadmap post and press release for Assassin's Creed: Origins, where Ubisoft detailed every piece of DLC that will be included in the season pass for the game. This includes "hours" of new story-related content and all new events and side-quests for players to discover.
The first DLC pack that will be part of the season pass is called The Hidden Ones. It's a story driven DLC expansion that follows on the building up of the Brotherhood of Assassins that Bayek helps establish in the original Assassin's Creed: Origins. The Brotherhood will have their first major clash against the Roman empire, and the DLC will extend the player's level so that they can acquire higher grade equipment. You can expect The Hidden Ones to go live starting in January 2018.
The second DLC is called Curse of the Pharaohs. It's another story-based piece of DLC for the game that sees Bayek fighting undead pharaohs in a mystical Egyptian realm. Ubisoft is taking an opportunity to showcase some of the more creative elements of the game, with Bayek fighting giant scorpions, Anubis warriors, and other mythological creatures. This DLC pack will also raise Bayek's level cap and will be made available in March, 2018 for home consoles and PC.
The other three season pass packs include 500 Helix credits, a Roman Centurion and Horus pack that contain new outfits, weapons, shields and horses, and a Calamity Blade pack. The Helix pack and Calamity Blade will be available at launch, while the Roman Centurion and Horus pack will be available in November, a month after Assassin's Creed: Origins becomes available for purchase.
The season pass will be bundled into the Gold Edition of the game, or you can pick it up separately for $39.99. All of these features are also showcased in the season pass trailer below.
Even if you decide not to purchase the season pass, Ubisoft plans on rewarding Assassin's Creed: Origins owners with free DLC throughout the early goings of its release, including a new challenge pack called The Trials of the Gods, where Bayek will have to fight against a series of Egyptian gods. This pack is due out in November, whereas The Nomad's Bazaar will launch with the game and will offer players daily unique quests to complete.
A photo mode will be included, along with a Horde Mode for the Gladiator Arena feature, and the previously talked about Discovery Tour, which is an edutainment mode for Assassin's Creed: Origins that allows players to simply wander around ancient Egypt and learn certain facts about the game without having to engage in combat or questing.
Assassin's Creed: Origins and the season pass will be available for purchase on October 27th.
Your Daily Blend of Entertainment News
Staff Writer at CinemaBlend.