How Long Star Wars Battlefront 2's Single Player Campaign Will Last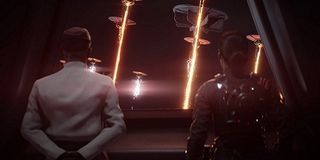 Star Wars Battlefront 2 is set to blast off next month, and along with all of the online modes, this latest game in the series will boast a single player campaign telling the story of one of the Empire's top soldiers. According to the developers, though, players shouldn't expect a longwinded space opera.
The folks over at Press Start recently had a sit-down with EA Motive studio producer David Robillard. While DICE is handling Battlefront 2's online modes, Motive is responsible for the campaign. That's actually probably a great way to handle a game with such different modes, ensuring that both portions receive the time and attention they deserve rather than just tacking something on in order to make up a bullet point on the back of the box.
But while everything we've seen so far makes it look like the Battlefront 2 campaign is going to be a wild ride, it sounds like the ride will be over pretty quickly. According to Robillard:
Obviously making any sort of assessment of a campaign based on time alone would be silly, but we can't pretend we aren't a little disappointed by that figure. When a developer gives a range like the one quoted above, you can usually bank on a typical run wrapping up at the lower end of the spectrum. And while six-hour campaigns aren't new (especially in a game that's primary focus is online play), the trailers up to this point made the Battlefront 2 campaign look like a grand, sweeping event.
And again, it may still turn out to be exactly that. I'm a firm believer that a storyteller should take the time needed to unroll their yarn; no more, no less. If they're able to cram in a rad story in just a handful of hours, I'll be eager to experience it. But again, my experience in the past has been that a campaign that short can feel like it's over just as it's getting rolling.
Here's hoping that the team has pulled everything off nicely. The only reason I'm harping on the playtime right now is because a campaign was missing from the first game, and I know a lot of gamers are considering picking up Battlefront 2 specifically for the story. But again, it wouldn't be fair to knock the game for a shorter story when it's still got all of the online modes included in the package. Hopefully those lore-hungry fans from the Star Wars universe will come for the campaign and stick around for the multiplayer shootouts for months to come.
Your Daily Blend of Entertainment News
Staff Writer for CinemaBlend.