Star Wars Battlefront II Closed Alpha Is Apparently Starting Now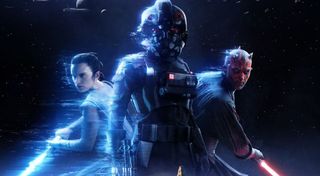 (Image credit: Electronic Arts)
Did you get an e-mail about the closed alpha test for Star Wars: Battlefront II? No? Well, some people are and they've been lucky enough to download the alpha, hop online and start blasting away in the upcoming multiplayer shooter from DICE and Electronic Arts.
Over on NeoGaf some users have been posting in a thread letting the rest of the community know that they have been receiving e-mails inviting them to download the alpha client for DICE's upcoming Star Wars: Battlefront II.
According to the posters, the closed alpha is currently underway and started on June 29th, 2017 (today). The test client clocks in at 7.3GB and offers players the opportunity to dive into the multiplayer portion of the title.
The posters are noting that you do not have to pre-order the game or any particular versions in order to get the invite into the alpha test. Speculation also seems to center around the test being limited to a PC only test.
It's likely that since this is a closed alpha that DICE wants to see how well things run and gather a lot of data and feedback first before rolling out a console test.
For home consoles there are patching and certification fees, and running alpha tests can be expensive across the PlayStation and Xbox. On PC there are no restrictions like that and it offers developers a lot more freedom to experiment with rolling out updates, modifying the network code, and issuing hotfixes. Basically, PC is a great test environment that enables developers to really iron out any of the kinks before bringing the game to consoles.
Unfortunately there were no details on what modes are included in the alpha test, but at 7.3GB it's likely that only small portions of the game are available. Keep in mind that even with only the Galactic Civil War content the original Star Wars: Battlefront that EA and DICE released back during the tail end of 2015 clocked in at 27GB on PC. So this particular alpha test is basically a quarter of the size of the original game.
In all likelihood the test is probably based on the slice of content offered up at the EA Play event that took place during this year's E3.
Some YouTubers have been offering insight and details into the gameplay of Star Wars: Battlefront II ahead of its release, including talking about what gamers can expect from the all new overhauled Star Card system and Crate loot.
Since information is thin at the moment we sadly don't have a whole lot to go on in terms of what actually is available in the alpha test and if that will eventually carry over for the Xbox One and PS4 at some point. However, I don't doubt that there will be a beta test ahead of Star Wars: Battlefront II's release to ensure that everything is in tip top shape for Xbox One, PS4 and PC gamers.
You can look for the 2015 sequel to launch this November, and it will feature content from both Star Wars: The Force Awakens and Star Wars: The Last Jedi.
Your Daily Blend of Entertainment News
Staff Writer at CinemaBlend.