Check Out Kylo Ren In New Star Wars Battlefront 2 Footage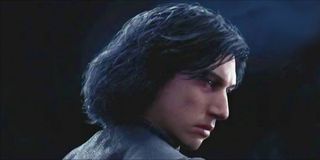 With the release for Star Wars: Battlefront 2 fast approaching for PC, PS4 and Xbox One, a lot of gamers have been keen on wanting to see some of their favorite heroes and villains in action. DICE and Electronic Arts have been happy to oblige, and released a new video showcasing the new-gen villain Kylo Ren in action.
The 10 minute video was posted over on the official Star Wars YouTube channel. The actual gameplay for Kylo doesn't kick in until the 1 minute and 51 second mark, where we see some third-person action of Kylo racing down the halls of the First Order's base. The clip is extremely tiny, though, so you don't get to see much other than the fact that the halls are very dark and adorned with large, draping red banners sporting the First Order symbol. It definitely makes you wonder if it's possibly a stage based on a scene from Star Wars: The Last Jedi?
The corridor segment is just barely a second long, but we see that the close-quarters combat will force players to pick their shots wisely as they move through the halls of the Imperial base.
We then get a brief look at Kylo in an outdoor area in what looks like a junker facility on a planet not unlike Jakka. It's hard to tell exactly what stage this is or what planet they're on, but DICE's art team definitely seemed to capture the sort of imagery that was present in Star Wars: The Force Awakens.
In the clip, however, Kylo uses his Force powers -- and yes they're present in Star Wars: Battlefront 2 -- in order to attack a rebel soldier on the opposite side of a platform. What's really cool, however, is that Kylo's Force abilities include a Force pull that allows him to pull multiple opponents toward his location. He does so, which results in multiple Rebel soldiers falling into the endless pit below.
We then get a final clip of Kylo in a jungle area. As much as I would love to say that it's Endor's moon, the problem is that some of the structures on the planet don't look familiar and seem more like a staging area than the Imperial base.
One of the things that you may notice in the clip as Kylo is swinging his lightsaber is that the sound is very distinct and quite different from Lord Vader and Luke Skywalker's lightsabers. You can almost hear the energy exhausting from the saber's hilt as Kylo moves, which is pretty cool.
Sadly, the clip for Star Wars: Battlefront 2 is only seconds long, but it's still enough to give you a small taste of what's to come in DICE's and Electronic Arts' multiplayer shooter. You can look to get in on the action starting November 17th.
Your Daily Blend of Entertainment News
Staff Writer at CinemaBlend.