Call Of Duty WWII Just Hit A Major Milestone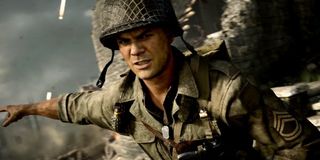 (Image credit: Activision)
Activision's Call of Duty franchise has a long and storied history of being a huge seller. This year the franchise went back to its World War II roots, and after escaping from the poor-selling shadow of Call of Duty: Infinite Warfare, it turns out that Sledgehammer's boots-on-the-ground FPS adventure was a huge hit this year.
Gamespot is reporting that Call of Duty: WWII has sold millions of copies since its release in early November, and that the game has become the number one best selling console game in North America in 2017. The game has surpassed $1 billion in sell-through since its debut on Xbox One, PS4, and PC.
Now the big thing here is that this is sell-through data, not shipping data. Sell-through means that this is the stock that was shipped to retailers and then sold-through to consumers. So the game has returned Call of Duty as a franchise back to its throne in the home console space, both as a big retail seller and a digital seller.
Right behind Call of Duty: WWII was the September release of Destiny 2, which ended up becoming the second highest grossing multiplatform game for home consoles in North America. There are a lot of modifiers and variables added to the discussion of "top games" when it comes to 2017 because despite both of Activision's games doing quite well, and surely surpassing the performance of last year's Call of Duty: Infinite Warfare -- a game that unfortunately suffered from sci-fi fatigue among the core demographic -- neither of Activision's titles were the top selling game per platform or when gauging the global charts.
In the per-unit sector, it was actually Bluehole Studios' PlayerUnknown's Battlegrounds that ended up capturing the crown, moving more than 25 million copies on PC alone. A large portion of those sales also came from the mainland China, turning it into an instant phenomenon that was selling millions of copies each and every month. The game also managed to move more than 1 million copies on Xbox One within days of its release on the system.
In a way, the fact that a much smaller company like Bluehole Studios managed to upend an established publisher like Activision is a clear indicator of how unpredictable and volatile the market can be when it comes to new IP and interesting game concepts.
Nevertheless, when narrowing the field down to home consoles in North America, Call of Duty: WWII was still the top-selling game and was followed by Destiny 2 and Ghost Recon: Wildlands.
Call of Duty: WWII takes players back to the gritty boots-on-the-ground combat of World War II. The game has players traveling with a band of soldiers across the front and into the heart of Germany. The game follows the ups and downs of a platoon of soldiers who attempt to fight their way through hellfire and hardships in order to win the war. The game's single-player campaign was accompanied by the typical online multiplayer and Nazi Zombies mode.
You can pick up a copy of the game right now for the Xbox One, PS4 or PC.
Your Daily Blend of Entertainment News
Staff Writer at CinemaBlend.