Sea Of Thieves Closed Beta On The Way This Month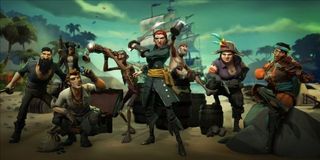 (Image credit: Rare)
It seems like the release of Sea of Thieves is always just out of reach of Xbox and PC gamers. Even after announcing a final date it seems like the game is always at arms length from playability. However, if you've been itching to get your hands on the game, there's a closed beta set to take place later this month.
According to a post on the Xbox News Wire, ahead of the March 20th release date coming out of the tail end of winter, gamers will be able to play Sea of Thieves in a closed beta test will take place on January 24th and will run up until January 29th. It will give selected gamers five whole days to play Sea of Thieves. The CBT will start in the morning and will end at the crack of midnight on the fifth day.
What's interesting, however, is that Rare states that the closed beta will be bespoke, offering gamers a unique slice of the gameplay ahead of the full release this March. So there are some activities and some features that may not be present in the closed beta that will be available in the full game given that Rare believes that there are a still a few things up its sleeve that will only be unveiled when the game launches.
Everyone who joined the Sea of Thieves Insider Programme before December 1st, 2017 will automatically be eligible to enter into the closed beta test set to take place at the end of the month. Alternatively, for everyone who pre-ordered the game, there will be a closed beta code provided through the official Sea of Thieves website.
If you didn't pre-order the game or you aren't part of the Sea of Thieves Insider Programme, you're sadly fresh out of luck when it comes to getting in on the upcoming CBT. Unlike Monster Hunter World or Bandai Namco's highly anticipated Dragon Ball FighterZ, there won't be an open beta this month for Sea of Thieves.
On the upside, however, gamers will be able to see a lot of the in-game content thanks to Rare and Microsoft lifting the NDA on the upcoming closed beta test. So players are encouraged to stream and create videos, clips, and share screenshots of their experiences with the Xbox One and PC gaming community.
If you were absolutely intent on getting in on the beta test set to take place on January 24th, you can still pre-order the game and then follow the online instructions on how to retrieve the CBT key from the website.
Alternatively, you can sit back and watch other gamers stream the game in order to get an idea of what the gameplay is like.
Based on the developer videos posted up so far, there are a lot of gameplay elements and nuances to Sea of Thieves that could make it stand out as a worthwhile title both for PC and Xbox One. The emergent gameplay elements, random encounters, and unrestricted gameplay could make it a sleeper hit of 2018 when it finally releases at the end of March.
Staff Writer at CinemaBlend.