Free Roaming Is Coming To Need For Speed: Payback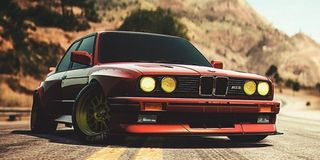 (Image credit: Electronic Arts)
Even though Need For Speed Payback didn't really set the charts on fire like some of EA's other titles, it still managed to make a big enough mark to warrant some post-launch support in the form of a free roam mode called Alldrive. EA just recently detailed when you can expect to engage in the free roam mode on the PC, PS4 and Xbox One versions of Need For Speed: Payback.
The info rolled out over on the official Electronic Arts website, where the company confirmed that the Alldrive mode is due for release on February 13th. That's right, it goes live this week for home consoles and PC.
The new mode will allow you to engage in various activities without being restricted to the campaign story structures or the online lobby races. One of the features of the free roam is the Alldrive Hangout, which will allow you to ride around Fortune Valley freely in whatever car you want, and you can interact with the Need For Speed community without any restrictions. You can ride around casually and showcase your ride to other players, as well as chat and engage in car meets or take pictures in the Snapshot photo mode. It's probably a pretty cool mode to use if you wanted to show off your crew to your friends on social media. You can also do mock races, ride around in the desert, or just cruise the city streets for a good time.
The Alldrive mode is almost identical to the free roam mode in the 2010 outing of Need For Speed World, which also allowed you to ride around the city or cruise the highways, just sort of having fun, outrunning cops, or snapping photos. The game also allowed you to challenge other players to one-on-one races, which is something that isn't mentioned in the update from Electronic Arts, but I'm guessing that the feature is in there because it would only make sense to be able to challenge other players in free roam... right?
Anyway, the update will also arrive with the new Catch-Up Packs, which is a cash shop pack designed to help players speed up their progression in Need For Speed: Payback. Electronic Arts caught a lot of ire last year for the microtransactions in the game, especially given that it's possible to buy these packs to upgrade your in-game performance and give you an edge during races. Well, the Catch-Up Packs are designed for players who have been left behind in the multiplayer progression arena, and you can essentially pay to catch up and progress through the game faster. These packs will unlock once you reach certain chapters in the game's campaign mode. The packs will unlock a level 6 tune-up pack at chapter 3, a level 11 pack at chapter 4, and a level 16 pack at chapter 5.
But, the update for Need For Speed: Payback will include more than just some progression updates and a new free roam mode. The post also explains that new variations in aftermarket underglow parts will be available along with all new types of tire smoke.
The developers also improved the Snapshot Pro mode so that it's easier to take snapshots during a takedown sequence. This is something that gamers apparently wanted when performing some of the cinematic takedowns during the campaign mode. All of this will be available in the latest update containing the Alldrive mode.
Staff Writer at CinemaBlend.
Your Daily Blend of Entertainment News
Thank you for signing up to CinemaBlend. You will receive a verification email shortly.
There was a problem. Please refresh the page and try again.