The Next Need For Speed Game Is Called Payback, Here's What We Know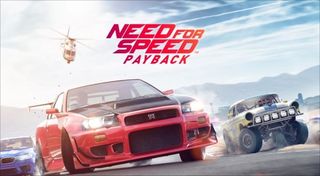 (Image credit: Electronic Arts)
Electronic Arts has revealed the next Need For Speed game ahead of the EA Play event set to take place during this year's E3 festivities. The game will be called Need For Speed: Payback and it is set to arrive this fall on November 10th for home consoles and PC.
Electronic Arts sent out a press release announcing that the new Need For Speed: Payback will be about "betrayal" and "revenge", and it will be developed by Ghost Games. It will feature blockbuster set pieces, vehicular customization, and the proverbial "gripping story".
Right off the bat the first thing that came to mind was that this is a game based on the movie that was based on the game. For those of you who didn't see the Need For Speed film starring Aaron Paul, it was a fun blockbuster road-trip movie with some cool chase scenes and a story about betrayal, revenge, and redemption. Almost identical to what the story premise for this new game sounds like. Even more ironic than that is that this game, which seems to be based on the movie, isn't even the first time EA has gone the Hollywood route.
In fact, the movie was somewhat loosely based on a previous Need For Speed game called Need For Speed: The Run, which came out back in 2011 for the PS3, Xbox 360, Wii and PC. It was about a guy indebted to the mob who had to win an illegitimate street race across the United States. The game centered around Ford's high-end Mustang, just like in the movie.
In Need For Speed: Paypack, however, players will be in control of three distinct characters as they each attempt to gain notoriety and fame in the underground racing scene, completing challenges and attempting to build a supercar in the process. You can get a glimpse of what they have in store with the trailer below, which was posted up over on the official EA YouTube channel.
The three playable characters include Tyler, a racer; Mac, a showman; and Jess, the wheelman. The three characters have united to get revenge against a cartel who runs the city, known as The House. Players will be able to upgrade and customize just about every aspect of their car. Electronic Arts notes in the press release that this will be the deepest customization feature in the series to date.
Another new feature in Need For Speed: Payback is that the game will give players the ability to bet on performance, where winning means multiplying one's earnings, and losing means... well, losing it all.
Cops will be making a return, along with intense races, and the ability to take on a variety of missions across an open world in the fictional setting of Fortune Valley, not unlike the 2015 outing of the Need For Speed or the MMO[Need For Speed World][1].
Pre-order bonuses were also announced, including a special Platinum Car Pack featuring five custom tuned cars. The cars also come with platinum blue tire smoke effects. If you pre-order you'll receive a Nissan 350Z 2008, a Chevrolet Camaro SS 1967, a Dodge Charger R/T 1969, a Ford F-150 Raptor 2016, and a Volkswagen Golf GTI Clubsport 2016.
The special deluxe edition of the game will also open up access three days earlier than the release date of November 10th. Additionally, those who are signed up to EA Access or Origin Access can play for up to 10 hours ahead of the game's release starting November 2nd. Need For Speed: Payback will launch on PlayStation 4, Xbox One and on Origin for PC November 10.
Staff Writer at CinemaBlend.
Your Daily Blend of Entertainment News
Thank you for signing up to CinemaBlend. You will receive a verification email shortly.
There was a problem. Please refresh the page and try again.