The Witcher's Geralt Is Joining Soul Calibur VI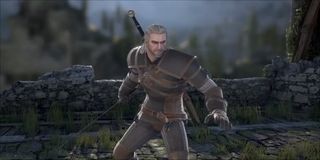 Bandai Namco previously teased gamers about possible roster additions that you didn't think would likely appear in Soul Calibur VI. Many gamers were able to piece together that it might be Geralt of Rivia from The Witcher series after CD Projekt Red also teased the possibility. Well, it's true... Geralt will be in Soul Calibur VI.
Bandai Namco made the news official by announcing it over on the official Soul Calibur Twitter account, where it was revealed that the White Wolf, the Butcher of Blaviken, and the monster slayer with white hair, Geralt of Rivia, will be joining the official cast of characters in Bandai Namco's upcoming 3D fighting game for PC, PS4 and Xbox One, Soul Calibur VI.
The announcement came with a spiffy new trailer featuring Geralt in action. The Unreal Engine 4-powered 3D fighter showcases the White Wolf dispensing some mean looking combos and his magic abilities to take down foes.
Before getting to Geralt's fighting abilities, some of you wondering how he managed to appear in the Soul Calibur don't have to wonder any longer. Apparently, reality-breaking fissures appeared around the world, and out of them "variants" appeared, one of which included Geralt.
I didn't say it was the most sophisticated story around, but it definitely answers the burning question about how Geralt managed to make his way from the medieval makings of Poland to the fantastical trappings of globe-trotting fisticuffs featured in Soul Calibur VI.
Forty seconds into the trailer we finally get to see Geralt in action. Visually, it looks like a brighter version of how he was depicted in CD Projekt Red's action-RPG, but otherwise it's obvious who he is. In fact, aesthetically he seems to fit the Soul Calibur motif almost perfectly.
Clad in leather armor with several swords equipped on his back, we see Geralt's first move is a cut to his opponent's throat from behind. After some dynamic posing and mugging for the camera for a few seconds, we finally get to see what the White Wolf's fighting style looks like in Namco's upcoming sword-and-shield game.
A short cinematic plays featuring lead character Mitsurugi challenging Geralt to a sword duel. The two specialists face off in a really dynamic and cool showdown. We then see Geralt's in-game combos on display -- it's far and few between given how much of the trailer is focused on the pageantry of introducing the character rather than the character's abilities. Even still, what little we get to see looks very impressive. Geralt will also be able to use his rune wards from The Witcher series to help him out during battle, in addition to utilizing his highly skilled sword techniques.
There's no release date set for Soul Calibur VI, but it's set to launch at some point this year for the Xbox One, PS4 and PC.
Staff Writer at CinemaBlend.
Your Daily Blend of Entertainment News
Thank you for signing up to CinemaBlend. You will receive a verification email shortly.
There was a problem. Please refresh the page and try again.