How To Get Avengers: Infinity War Gear For Your Xbox Avatar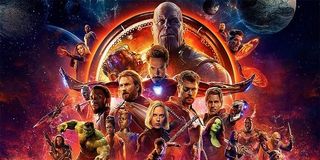 If you're looking to spruce up your Xbox Avatar, pretend you're a superhero, or just celebrate the upcoming release of The Avengers: Infinity War, then you can now do all of those things at once simply by snagging more than a dozen free items that have now gone live.
It looks like Microsoft has set up a nice little partnership with Marvel, offering Avatar items from standalone movies like Doctor Strange to the big team-based romps like Guardians of the Galaxy. Even better, they're all free of charge right now. All you have to do is hop into the Avatar Store (opens in new tab) and "purchase" each item by clicking on its price tag of "Free."
There are 19 items all told, including full costumes, pieces of gear and even companions perfect for keeping your Avatar company.
Ever wanted to be an Avenger? Then clad your Avatar in a Black Widow suit that, yep, is available for both male and female models. Still buzzing from how good Black Panther was? Then snag his vibranium suit and don it yourself. The rest of the full suits include everything from Captain America and Thor to Star-Lord and Iron Man.
Rather than go full cosplay, you can also choose to simply wear the cloak from Doctor Strange or sport Thanos' Infinity Gauntlet from the upcoming movies. It's hard to tell from the picture, but it looks like the dude only has two of the Infinity Stones at this time, though that would match with the version we've seen in the trailers for the movie.
Did I mention you can also grab a trio of companions to hang out with your Avatar? Those include The Hulk, Groot (who appears to be in his adolescent years) and Rocket.
Once again, every single one of those items is free of charge and can be downloaded right now. Not a bad little bag of freebies, right?
As for the movie itself, The Avengers: Infinity War is nearly upon us. The first half to the conclusion of this era of Marvel films hits theaters on April 27. That means we're only a few weeks out from seeing Thanos kick the living hell out of heroes we've been rooting for over the course of a solid decade. What a jerk, right?
The Marvel movie experience will continue this summer with Ant-Man & The Wasp, which may help explain why the new duo aren't even featured in the current Infinity War trailers. Not that this stuff is always chronological, but it would make sense to save a few characters for inclusion in the second film, especially since all of the latest speculation is that some of our heroes will be riding off into the sunset once Thanos comes to town.
Your Daily Blend of Entertainment News
Staff Writer for CinemaBlend.