Ghost Recon Wildlands Is Free To Play This Weekend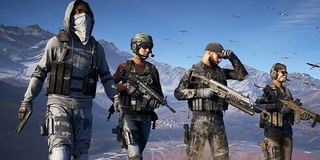 Ghost Recon Wildlands is back for a second year of running, gunning and making things go boom and, to celebrate, Ubisoft has announced that the game will be free-to-play across all platforms through the weekend.
The Ghost Recon Wildlands Free Weekend (opens in new tab) is set to run through April 15 and it's live right now so, if you want to take the latest offering from the Tom Clancy umbrella for a test drive, you can get your download started on Xbox One, PlayStation 4 or PC.
As has become a common practice in this modern age of gaming, you'll be downloading the full game rather than just a demo. You'll have access to everything Wildlands has to offer through 11:59 p.m. PDT on April 15, at which point you'll either need to purchase the game to keep playing or simply write the whole thing off as a free weekend of gaming. Participants will have free reign over the open world map of Bolivia, where they can take down the Santa Blanca cartel solo or in cooperative play. As an added bonus, "Special Operation 1" went live recently, giving players a chance to help out Sam Fisher from the Splinter Cell series. Based on the Free Weekend event announcement, it looks like that mission will be open to folks trying out the game in the next couple of days, too.
At the bottom of that same announcement is a FAQ that reiterates the fact Free Weekend players will have access to the full game, including online play and stuff like Achievements/Trophies. Your progress will save like normal and, just like with previous free events, you'll be able to pick up right where you left off if you ever decide to go ahead with a purchase.
One thing we tend to see with free weekends is a discounted cost on the full game, and Ubisoft does not disappoint, as the developer has decided to discount Wildlands for a limited time, making it more enticing ever to take the plunge if you enjoy your free time in Bolivia. The game and its various DLC is up to 67 percent off on all platforms, with the Xbox One and PS4 discounts available through April 23 and the PC discount available through April 18. A special note mentions that the discounts on Xbox One are only available for Gold subscribers. Discounts include the Standard, Deluxe and Gold editions of Wildlands, as well as the first Season Pass.
We found out in recent weeks that Wildlands will be getting a second year's worth of content and event support, so you can also pick up a pass for all of that jibba-jabba if you like. There does not appear to be a discount on the Year 2 pass, though.
So what do you think, readers? Anyone planning on giving the Free Weekend a go? Any current players want to encourage everyone to take the plunge? Drop your thoughts in the comments below.
Staff Writer for CinemaBlend.
Your Daily Blend of Entertainment News
Thank you for signing up to CinemaBlend. You will receive a verification email shortly.
There was a problem. Please refresh the page and try again.