343 Industries May Take Legal Action Against Fan Made Halo Project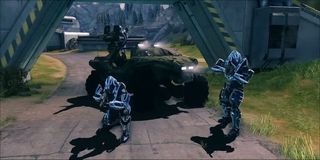 (Image credit: Microsoft)
The Halo Online modded project known as ElDewrito recently received version 0.6 in its short development cycle. The mod enabled PC gamers to play the defunct version of Halo Online with other people... online. However, Microsoft wasn't too happy about that and there might be legal action taken against the project.
Over on the Halo Waypoint website, 343 Industries noted that legal action would be taken if the ElDewrito project was not shut down. The open letter explains that the latest release of ElDewrito is based on code from the Russian online first-person shooter, Halo Online.
The game originally came out back in 2014 in partnership with Microsoft, 343 and Saber Interactive, but a couple of years later Microsoft had the project shut down. Some of the game's code ended up leaking out, and the ElDewrito crew began reverse engineering a multiplayer game around the available code from Halo Online. Well, after the project gained tons of popularity and began spreading throughout the PC community, Microsoft stepped in to claim that the project had to be shut down as a means of exercising its copyrights.
343 Informed the community that this doesn't mean that this is the end of Halo on PC, but right now the project needs to be put on hold...
Part of the issue that Microsoft had with ElDewrito was that it uses some of the Halo Online code, which is based on Halo 3 for the Xbox 360. 343 mentions that other Halo fan projects were fine because they were built on custom code and not any of the proprietary code belonging to Microsoft.
As noted by 343, Microsoft is still investigating servicing the PC community, just not right now.
The last Halo project to come to PC for a global audience was Halo: Spartan Assault, which was an isometric arcade game that came out for PC, Xbox 360, Xbox One, and iOS devices back in 2013. Before that gamers had Halo: Combat Evolved and later on Halo 2 for Windows Vista to play on PC.
One of the more popular entries in the series, Halo 3, was forfeited a release on PC. Microsoft attempted to compensate with the Russian version of Halo Online, but obviously gamers in the West and the East were unable to play it.
The ElDewrito mod for Halo Online opened up Halo 3's multiplayer for the PC gaming audience, giving gamers a taste of the action that Xbox 360 gamers had more than a decade ago. For now, Microsoft would prefer if people played Halo 3 through Halo: The Master Chief Collection, rather than reverse engineering abandoned projects.
Staff Writer at CinemaBlend.
Your Daily Blend of Entertainment News
Thank you for signing up to CinemaBlend. You will receive a verification email shortly.
There was a problem. Please refresh the page and try again.