Halo Online Mod Shut Down By Microsoft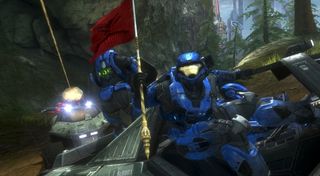 Microsoft recently announced Halo Online, a free-to-play multiplayer rendition of the popular sci-fi shooter. It was designed as a testing "opportunity" for Microsoft to gauge the value of the brand as a free-to-play title on PC... over in Russia. Well, modders were displeased with the region-specific game and tried to bring the title to other territories. But Microsoft didn't like that.
GamePolitics has a quick write-up of the situation based on a report by Torrentfreak. The article explains how modders got a hold of some of the files from Halo Online, and reverse engineered the client so it would be region-free. They dubbed the new client "ElDorito," a play on the advertising partnership between Halo and Doritos that spawned the Dorito Pope internet meme.
Microsoft sent the following DMCA takedown notice to Github, requesting they remove the "ElDorito" client:
If you're searching for video footage from the new Halo title, you'll be met with a lot of copyright notices from pulled YouTube videos.
Mp1st had an article detailing some of the features from the new Halo title, noting that the game featured a lot of the gameplay mechanics and play-style that Bungie introduced in Halo 3. However, the models and graphics were akin to Halo 4. That almost sounds like the perfect combination since a lot of gamers really loved the multiplayer gameplay from Halo 3 but preferred the graphics from Halo: Reach and Halo 4.
Unfortunately, MP1st's video footage is one of the unfortunate victims of a copyright claim. So, being able to judge whether or not the game is as good as some have claimed will have to be determined at a later time.
If Microsoft really wanted to cash in on the hype, it would use this opportunity to build up an announcement for Halo Online at this year's E3. It might seem a bit dickish, but if they also wanted to boost the appeal of the Xbox One and Windows 10, they would make Halo Online available globally. With the rumors of the Xbox One being able to stream games from a Windows 10 PC, it might help win over some gamers, especially if you don't need Xbox Live to stream PC games.
For now, though, modders will just have to settle for having their efforts to import Halo Online thwarted by Microsoft.
Your Daily Blend of Entertainment News
Staff Writer at CinemaBlend.
Your Daily Blend of Entertainment News
Thank you for signing up to CinemaBlend. You will receive a verification email shortly.
There was a problem. Please refresh the page and try again.