Sega Has Big Plans For Sonic The Hedgehog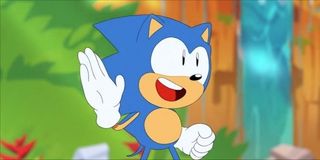 (Image credit: Sega)
The Sonic The Hedgehog franchise has had such a rocky time on the market the last decade or so. The quality of the games bounce wildly between being top-notch titles to being grossly bug-ridden. Well, Sega has some big plans to bring the blue hedgehog back into the spotlight in a positive way.
In an interview with CNBC, Sega Sammy Holdings president, Haruki Satomi, talked about having big plans for Sonic The Hedgehog, picking up on the momentum that Sega gained from Pagodawest's Sonic Mania and the deal with Paramount Pictures for the Sonic The Hedgehog movie, which is due out at the end of the year. Satomi explains that the movie is the start of something big for the franchise, telling CNBC...
When pressed further about growing the fan base, Satomi explains that the movie is just one of the efforts that Sega is working on when it comes to Sonic and expanding the brand.
The company also attempted to leverage Sonic Mania by releasing some short animations based around the property, which hearken back to the old 1990s animated cartoons based around Sonic 2.
When the interviewer asks if Sega will attempt to overthrow the Super Mario franchise, Satomi respectfully waves off the suggestion by stating that Sonic and Mario are friends now, and they work together during the Olympic Games to engage in friendly competitions.
Satomi explained that they had to reevaluate the direction of the company's interactive entertainment division after they recognized that some of their recent Sonic outings -- such as Sonic Boom -- had awful Metacritic ratings. Satomi decided to take the brave approach and encourage the developers to focus on quality over quantity. This is why the company took a risk on Sonic Mania, which is one of the highest rated titles in the franchise since Sonic Generations.
Satomi admits that he's not much of a gamer, and his favorite games are from the Yakuza series, which isn't too surprising. But he does note that there are some basic principles that Sega needs to adhere to when designing games and that the fans must come first. He's surprisingly in touch with the community and keeps regular tabs on what the global audience is saying through Sega's social media posts, including Facebook and Twitter.
So what does this mean for upcoming games? Well, Satomi doesn't exactly say what the new games will be like, but Sega obviously isn't done with the blue hedgehog.
Oddly enough, Sega's next big venture actually has nothing whatsoever to do with video games, and is actually focused on building a new casino in Japan, where the company expects it to be big business. Nevertheless, Sonic and his furry friends are still a top priority at the company moving forward.
Your Daily Blend of Entertainment News
Staff Writer at CinemaBlend.