A Sonic The Hedgehog Movie Is Happening, Here's What We Know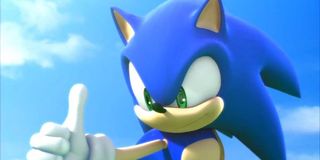 When it comes to video games being adapted as movies, there have been a lot more failures than successes. Nevertheless, that hasn't stopped the Hollywood machine from trying to make cash cows out of these properties, whether they're longtime favorites or relative newcomers. In the former's case, today brings news that a Sonic the Hedgehog movie is officially in development, and Deadpool's Tim Miller will be involved.
According to THR, Tim Miller will serve as executive producer on Sony Pictures' Sonic the Hedgehog, which aims to be a "hybrid CG-animated/live-action family film." He will work alongside Jeff Fowler, one of his Blur Studios collaborators, who has also been tapped to direct the speedy blue hedgehog's theatrical adventure as his feature directorial debut. Patrick Casey and Josh Miller, both of whom created Golan the Insatiable, will pen the script. Neal H. Moritz from the Fast & Furious franchise, Toby Ascher, Takeshi Ito, Mie Onishi, Dmitri Johnson and Dan Jevons are among the movie's other producers.
Introduced in 1991, Sonic the Hedgehog was created by Sega, and he was without a doubt one of the most popular video game characters of the 1990s. Even with Sega's heyday having long since passed, Sonic still remains a fan favorite, and has enjoyed moderate success on other consoles. His most recent games include 2013's Sonic Lost World, Sonic Boom: Rise of Lyric and Sonic Boom: Shattered Crystal, the latter two being released in 2014. Sonic Mania is scheduled for release in Quarter 2 of 2017, with the currently-titledProject Sonic 2017 arriving on Quarter 4 of the same year. Some of the notable character's in the hedgehog's world include Amy Rose, Tails, Knuckles and the villainous Dr. Eggman. Outside of the videos games, Sonic and his crew have starred in several animated series and comic books. Funny enough, this upcoming movie won't be the first time Sonic the Hedgehog has been represented on the big screen, as Sonic himself and Eggman cameoed in 2012's Wreck-It Ralph.
Sega announced back in 2014 that a Sonic the Hedgehog movie was in development, something which was reaffirmed earlier this year. However, today's news finally reveals who the creative minds will be putting this adaptation together. Having Jeff Fowler direct this as his first feature length movie seems like a risky move, but considering the work he and Tim Miller have accomplished with visual effects, Sonic the Hedgehog is definitely within that wheelhouse. This news also answers the question of what Miller will do next following his Deadpool 2 departure a little over a week ago.
No release date has been set yet for Sonic the Hedgehog yet, although it was previously reported to be hitting theaters sometime in 2018. Stay tuned to CinemaBlend for more updates surrounding the project.
Your Daily Blend of Entertainment News
Connoisseur of Marvel, DC, Star Wars, John Wick, MonsterVerse and Doctor Who lore. He's aware he looks like Harry Potter and Clark Kent.