Sonic Mania Plus Is Adding New Characters And More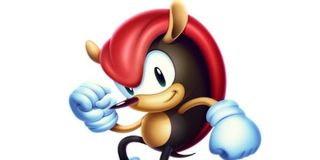 (Image credit: Sega)
Sega has finally decided to do something that almost everyone agrees is a good decision: give gamers more Sonic Mania. The breakout hit and highly lauded digital release of Sonic Mania last year has spurred Sega into action, and now Sonic Mania Plus is scheduled to release this summer for home consoles and PC.
During this year's SXSW (via IGN) Sega announced that Sonic Mania Plus is headed to the Xbox One, PS4 and Nintendo Switch this summer as a physical release. You'll be able to acquire the boxed copies of the game from local retailers for $29.99. That's a $10 markup over the original $19.99 price tag that Sonic Mania had when it released digitally last year in August for home consoles and PC.
Speaking of the digital release, gamers who already own a digital copy of Sonic Mania will receive a free upgrade to Sonic Mania Plus, so Sega and the team at PagodaWest Games won't be punishing gamers for having supported the developers with the initial release last year.
The new version of the game comes with some pretty significant changes, though, so if you skipped out on Sonic Mania last year, you'll definitely want to pick up the physical copy of Sonic Mania Plus this year, especially if you're a collector who isn't entirely keen on supporting digital-only releases.
The game contains the base campaign mode for one or two players, but also adds two additional playable characters in the form of Ray the flying squirrel, a yellow squirrel who looks like a cross between Sonic and Buzz the Bee from Honey Nut Cheerios; and Mighty the Armadillo, who was featured in the Sega 32X title _Knuckles Chaotix. _
The characters will be able to blast through the campaign mode along with being playable in the all-new four-player competitive mode, which is an upgrade over the two-player mode. This is like the natural evolution over the two-player competitive modes that were introduced in Sonic 2 and Sonic 3.
Sega didn't mention if you'll be able to mix and match the characters in Sonic Mania Plus, such as having Tales and Ray, or Knuckles and Mighty, or Sonic and either of the other two new cast members, but it will be interesting to see how the game is balanced around the new characters.
For those of you willing to spend the extra $10 on the Sonic Mania Plus, you'll receive a holographic packaging and a 32-page art book, along with a reversible Sega Genesis cover, which looks like it comes right out of 1995.
The 32-page art book contains concept art for some of the stages, along with fully colored images for some of the characters and entities featured in Sonic Mania. There's also the all-new Encore Mode, but Sega didn't exactly detail what you'll be able to do in the Encore Mode.
The original game was a real breath of fresh air, giving Sonic fans a thoroughly enjoyable and high-quality experience with a great soundtrack. The game mixed in many of the classic levels from the old Sega Genesis titles with brand new levels that seamlessly connected with the classic stages. To help bolster the appeal of the upcoming physical re-release of Sonic Mania there will also be a five episode series based on the game published on YouTube.
Your Daily Blend of Entertainment News
Staff Writer at CinemaBlend.