How DICE Is Responding To The Battlefield V Controversy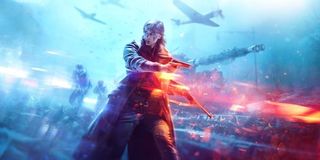 EA and DICE held their big Battlefield V reveal event in London yesterday, showing off plenty of concept art and a cinematic trailer for their new World War II shooter. Included in the reveal were female soldiers, which has caused something of an uproar from the community. For DICE's part, they don't seem to be sweating the haters.
The above tweet comes from DICE Executive Producer Aleksander Grondal, following yesterday's Battlefield V reveal. It's a response to another Twitter user, Game Informer Australia's David Milner, poking a bit of fun at the reaction to the reveal trailer.
In Milner's original tweet, he quotes folks claiming that the Battlefield series has abandoned historical accuracy for political correctness. This sentiment stems from the fact that the Battlefield V trailer and promotional art predominantly feature female soldiers. To be clear, "predominantly" means one female soldier on one piece of promotional art that might end up being the cover art for one version of the game, and one female soldier being a badass on the battlefield during the trailer.
What makes Milner's point is the inclusion of a gif boasting a scene taken from a multiplayer fight in Battlefield 1. In it, one player is guiding a horse across the desert while several of their teammates miraculously stand on the horse, firing guns and flamethrowers at the enemy. You know, just like it really happened in WWI.
Milner's next tweet is pulled from Battlefield 3, includes the line, "it's, like, not even about the history anymore," and features a gif of a jet that is stuck on a building, getting unstuck and then flying away.
DICE's Grondal responds to this with a simple claim that the team will always put fun over authentic. I personally take issue with that statement, actually, because such a claim does not support the fact that I'm still not playing Bad Company 3 now am I, Aleksander?
So, long story short, a woman popped up in a trailer for Battlefield V and that's got quite a few people claiming the studio is trying to rewrite history, going so far as to create a hashtag for the cause, #NotMyBattlefield.
Others, though, have pushed up their glasses and offered a retort, pointing out the fact that women were very much a part of the war effort during WWII. Our understanding is that Battlefield V will specifically feature a Norwegian resistance fighter, but it appears to be a British soldier features in the trailer. To that, we turn to Gov.UK, who report that 640,000 women served in their armed forces during WWII so again, the argument that history is being revised appears to be a bit limp.
Battlefield V will arrive on Oct. 19 for PC, PlayStation 4 and Xbox One.
Staff Writer for CinemaBlend.
Your Daily Blend of Entertainment News
Thank you for signing up to CinemaBlend. You will receive a verification email shortly.
There was a problem. Please refresh the page and try again.