Is Battlefield: Bad Company 3 Happening? Here's What We Know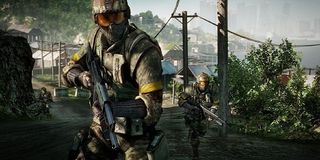 Annual first-person shooters have been shaking things up a bit lately, which has led to many folks speculating about the beloved Battlefield: Bad Company spin-off series that's been hanging in limbo for nearly eight years. Based on some recent rumors, it looks like DICE is at least considering a return to the series, though not in 2018 as some have speculated.
Last week, a popular Battlefield YouTuber by the name of AlmightyDaq posted a video stating that not only did he have insider information that DICE was working on Bad Company 3, but that it would be the banner Battlefield game for 2018. Since then, people have been coming out of the woodwork to (at least partly) dispute those claims, leading us to wonder if and when such a game might actually surface.
Way back in the day, AlmightyDaq announced all sorts of insider information concerning the original Bad Company that turned out to be right on the money. As pointed out by Eurogamer, it's also a well-known fact that DICE likes to keep several of their more prominent YouTubers in the loop when it comes to what they've got cooking behind the scenes.
The original video, which has since been altered, stated all kinds of details pertaining to Bad Company 3, including a setting during the Vietnam conflict, the return of old-school classes in multiplayer, as well as game modes including Conquest, Rush, Operations, Team Deathmatch and Domination.
Given AlmightyDaq's previous insider knowledge, many took what he had to say with a smaller grain of salt than rumors are typically handled with.
In the following days, folks have come forward to dispute several of the details, primarily the fact that Bad Company 3 was not only in development, but planned for launch in 2018. AlmightyDaq has backtracked on some of his claims, though it still seems like something Bad Company-related is being worked on.
The main rub seems to be the timing, with DICE denying that a Bad Company 3 game is slated for 2018. Other Battlefield sources have stated that the 2018 game will actually focus on World War II, an era recently revisited by the Call of Duty series. Also, since Battlefield 1 went back to the First World War, it stands to reason that a potential Battlefield 2 would focus on that next epic conflict.
However, this gives us cause to believe that some of those other Bad Company details might be on the money. A trip to Vietnam in 2019 might make sense, chronologically speaking, and the Bad Company moniker would give the team some wiggle room to do something different with the conflict compared to what has been done in the past.
Considering the fact that some of the most fun I've ever had with an FPS was while playing the first two Battlefield games, I'd wholeheartedly welcome its return.
Staff Writer for CinemaBlend.
Your Daily Blend of Entertainment News
Thank you for signing up to CinemaBlend. You will receive a verification email shortly.
There was a problem. Please refresh the page and try again.