The Newest Look At Death Stranding Still Doesn't Make Any Damn Sense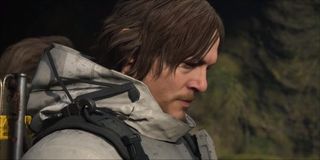 One of the most highly anticipated games that has consistently left absolutely everyone completely baffled and confused -- and continues to leave people baffled and confused -- is Kojima Productions' PS4 console exclusive, Death Stranding. During the Sony E3 press conference, we finally got to see the actual gameplay for Death Stranding and for a lot of people it still doesn't make any sense whatsoever, leaving people both awestruck and scratching their heads quizzically.
The trailer was a lot longer than the previous ones that we've seen of Death Stranding so far. It was uploaded separately as an eight minute showcase over on the PlayStation YouTube channel.
The eight minute video starts with Norman Reedus' character, Sam Porter. He's talking to another mysterious character played by Lea Sedoux from Spectre and Blue Is The Warmest Color. It's impossible to tell what it is exactly they're talking about, but we learn that Sam Porter is a transporter... a deliveryman.
Sam's job is to deliver objects from one place to another in order to bridge together threads of humanity. Why? We don't know. And how exactly does delivering objects rebuild humanity? We don't know that, either. What exactly caused humanity to become the way it is? Again, we don't really know.
What we do know is that Sam will traverse some unique environments themed after Icelandic countrysides and mountains. Well... at least some of the environments are themed after Iceland's countrysides. We also see that Sam will have to scale dangerous cliffs, swim through water, and attempt to protect the mementos he's carrying on his perilous journey.
One thing that is made absolutely clear is that a good portion of the gameplay in Death Stranding is focused around delivering things.
Some of the traversal includes climbing mountains, balancing across bridges, and walking through valleys filled with rocky terrain.
Now, this isn't a walking simulator, though. You won't be spending your time just watching Norman Reedus walk everywhere. There's also third-person shooting combat and horror elements.
We learn that the whole baby in a tube thing comes into play for avoiding the phantom monsters in Death Stranding. The baby powers a scanner that can highlight the phantoms in the world that players will need to avoid while they deliver objects.
We still don't know what the general plot is like, but we do know that Lindsay Wagner from the Bionic Woman will be featured in the game in a significant way. We have no idea what her role is, but Hideo Kojima was excited about it.
It's amazing that we have all of these gameplay videos of Death Stranding but we still don't know exactly what the game is about, nor do we know what the extent of the gameplay is like. At least now we know that there's proper third-person traversal, but we still haven't seen the combat. According to Kojima the combat is similar to The Division, but we still haven't seen it in action yet. There's also still no release date on Death Stranding but it definitely seems to be coming along at a decent pace.
Staff Writer at CinemaBlend.
Your Daily Blend of Entertainment News
Thank you for signing up to CinemaBlend. You will receive a verification email shortly.
There was a problem. Please refresh the page and try again.