Is Death Stranding Set In Iceland?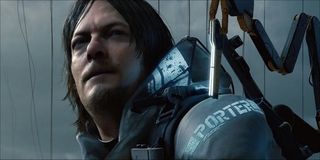 (Image credit: Kojima Productions)
Hideo Kojima's highly anticipated sci-fi action game, Death Stranding, is a mysterious project that has a lot of the gaming community trying to figure out what it's actually about, where it's set, and what the heck is going on with that baby? Well, one clue that seems to be clearly focused on at the moment is that the game is possibly set in Iceland.
Eurogamer is reporting that the fandom surrounding Death Stranding have begun to speculate that the game may be set in Iceland. Why? Well, there have been a couple of clues given out by Hideo Kojima that may be related to the location of the game. For instance, a screenshot taken from Death Stranding running in real-time in the Decima Engine revealed that one particular scenario includes a moss-covered outdoor location. Keen gamers actually began comparing the formation of the moss and the structure of the topography to real-life locations in Iceland, which have a similar composition based on moss that grows on top of lava fields.
When keen-eyed gamers tweeted this bit of information out after comparing the two screenshots between a real life location of Iceland, and the in-engine shot from Death Stranding, Kojima mysteriously retweeted the message, possibly indicating that the fan was on to something or possibly he just liked that they were comparing a real-life shot of Iceland with the environment rendered in real-time within the Decima Engine.
Another clue was that someone spotted another bit of moss-covered lava field from the cinematic trailer for Death Stranding. They compared it to yet another image that Hideo Kojima shared back when he was working with Konami in 2014, before being fired near the end of development for Metal Gear Solid V: The Phantom Pain.
The image that Kojima shared was from his trip to... you guessed it, Iceland. The article also points out that the music in the trailer for the game is from an Icelandic music group named Low Roar, which Kojima encountered during his summer visit to the location.
Obviously, this leads to the most apparent question: If the game is set in Iceland, why?
Some of the theories center around the fact that the lava fields in Iceland may relate to fertility of some sort, which then leads some people to believe that the game may deal with some sort of catastrophic phenomenon where humans can no longer give birth. This would also possibly explain why the main characters may be so intent on saving the baby in the capsule.
Of course, all of this speculation is based on theories cooked up by the community and seemingly egged on with little hints and nudges by Kojima himself. Thankfully, gamers won't have to wait long to get a firsthand glimpse at the gameplay of Death Stranding, since it was announced that Kojima Productions would be on hand to present an exclusive look at the game at this year's E3 during Sony's press conference. Perhaps we'll finally receive an answer as to whether or not the game really is set in Iceland, and what the heck is up with that baby in a capsule?
Staff Writer at CinemaBlend.
Your Daily Blend of Entertainment News
Thank you for signing up to CinemaBlend. You will receive a verification email shortly.
There was a problem. Please refresh the page and try again.