Insomniac's Spider-Man Is Set To Join The Marvel Universe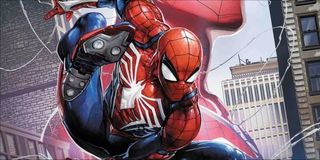 (Image credit: Marvel Comics)
The Marvel brand is going as strong as ever, all thanks to the widespread consumption of all things Marvel Cinematic Universe. The movies have been making billions of dollars collectively, and setting records up and down the Hollywood revenue record lane. Quite naturally, a lot of studios and companies would probably love to get in on those properties, and Insomniac Games has been lucky enough to be one of those studios. In fact, Insomniac's upcoming Marvel's Spider-Man is actually set to join the Marvel Universe.
According to Polygon, Insomniac's Marvel's Spider-Man lore will make its debut in the comic book successor to 2014's Spider-Verse, called Spidergeddon. The special crossover event will take place in Marvel's Earth-616 where more than a dozen different Spider-Men and Spider-Women will meet for the very first time in an epic encounter.
Polygon had the opportunity to exclusively reveal that the big blank slot on the cover of the upcoming Marvel special crossover event belonged to none other than the Spider-Man from Insomniac's upcoming game. The silhouette was originally blank during the teaser reveal, but the outlet is reporting that Insomniac's version of the character will swing perfectly into that empty space when the comic launches later this year.
In a way, it's not surprising at all, given that this particular comic comes from Christos Gage, who is probably best known for his amazing work on Netflix's Daredevil show. But, Christos is also a writer for Marvel's Spider-Man, which is being developed by Insomniac Games. So, it makes all the sense in the world that one of the games Christos worked on would also feature that character in the comic book line based on that very character.
In fact, Christos Gage mentioned that it was his work on video games that led toward the natural inclusion of Insomniac's version of Spider-Man in the upcoming Spidergeddon comic book. Gage has been working on games for the last three years, and the writer told Polygon that there was no effort whatsoever to shoehorn in Insomniac's Spider-Man into the Marvel comic book universe. Instead, he acknowledged that, based on the events of the game, it seemed like a natural fit for Insomniac's Spider-Man to appear in the Spidergeddon crossover.
The event will feature a number of different heroic Spider-people from a number of different events, timelines, and dimensions, including the very popular Spider-Gwen, the Scarlet Spider, and the Spider-Punk from Earth-138, who also happens to be featured in Marvel's Spider-Man as an alternate costume for Peter Parker.
What's really interesting is that it was just recently revealed that the game has a Easter Egg containing the Avengers Tower from the Marvel Cinematic Universe. Quite naturally a lot of people wondered if the game would be crossing over into the film territory by bringing in other heroes, but Insomniac shot down the idea, stating that the game takes place in its own universe. Well, I suppose that's not entirely true anymore, given that Marvel's Spider-Man's leading hero will be crossing over into the realm of comic books starting September 26th, a couple of weeks after the game launches exclusively on the PS4 on September 7th.
Your Daily Blend of Entertainment News
Staff Writer at CinemaBlend.
Your Daily Blend of Entertainment News
Thank you for signing up to CinemaBlend. You will receive a verification email shortly.
There was a problem. Please refresh the page and try again.